Canada's dairy policy could be at the forefront of Trump's NAFTA negotiations over the next few weeks.
You see, Canada uses a supply management system to regulate dairy production and pricing. And last year, the country implemented a low-price policy that created an entirely new class of milk prices for ultra-filtered milk, which is used in everything from cheese to yogurt. The policy incentivized Canadian-made ultra-filtered milk to better compete with U.S. imports.
And it's working...
According to Business Insider, the American dairy industry has not taken kindly to these developments and is now arguing that the new policy violates the North American Free Trade Agreement, or NAFTA.
But the most immediate impact has been on American farmers...
Decades-Old American Farms Are Shuttering Their Doors
Just last week, U.S. processor Grassland Dairy Products cancelled the contracts of 75 U.S. producers, blaming lost business with Canada. In fact, the company reported it had lost all of its Canadian exports due to the new policy, which comprised roughly 30% of its overall sales - over $100 million per year.
Now, these American farmers are struggling to find new processors in an already flooded market. If they are unsuccessful, many dairies will be forced to sell their cows and permanently shutter the doors on their family farms, some decades old.
"We are going to make some very big changes, or we are going to get rid of NAFTA once and for all," said Trump.
"If we can't find a market for our milk, we simply won't be able to afford to feed our cows anymore," said Londa Lauber, owner of Pine Creek Farms, to The Fence Post on April 24. "It costs $6.80 per day to feed each cow. Economically, we just can't do it. We now face the dilemma that everyone in this situation is facing - if we can't find a buyer, we'll be forced to sell out. Some farmers already have sold."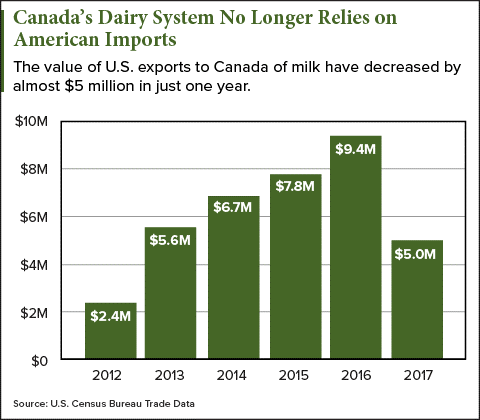 And this nightmare scenario is playing out at the worst time possible, added Lauber, as cow prices are down 30% to 40% in just the last few weeks due to Canada's policy.
"These cows are my parents' entire retirement plan; they've worked their whole lives for this," Lauber said. "Now the market is flooded, and if they are forced to sell, they'll only get a fraction of what the cows are worth."
Special Report: Cannabis Is the Gold Rush of the 21st Century - 30 Stocks to Invest in Now
And at this time of crisis, family farmers are looking to the new administration for help...
President Trump Is Vowing to Help
During his "Buy American, Hire American" speech in Wisconsin last week, President Trump vowed to help the dairy farmers in any way he could - even if it's drastic.
In fact, Trump suggested he may "get rid of NAFTA once and for all."
"We're using every tool at our disposal to restore the American dream," President Trump said to a crowd of people at the Snap-On Inc. headquarters. "We're going to stand up for our dairy farmers in Wisconsin."
"We are going to make some very big changes, or we are going to get rid of NAFTA once and for all," said Trump.
In fact, Trump said he plans to move "very, very quickly" on negotiations with Canada and will have a more detailed plan over the coming weeks, according to Business Insider.
However, Trump's willingness to scrap NAFTA is also a major concern for U.S. dairy farmers, reported Farmers Weekly on April 24.
You see, roughly 15% of U.S. dairy production is exported, the two biggest recipients being Mexico and Canada, whose trade was worth $1.85 billion to the United States in 2016.
And any amendments to the deal, including scrapping Canada altogether, could deal a deathblow to the industry where overproduction is at record levels.
Meanwhile in Canada, lawmakers appear unsure over whether to take Trump's threats seriously.
"We're not going to overreact," Canadian Prime Minister Justin Trudeau told Bloomberg on April 18. "We're going to lay out the facts and we're going to have substantive conversations about how to improve the situation."
How This Will Affect You
Food trends - like the oversupply of dairy, gluten-free diets, and the "war on sugar" - change what ends up on the store shelves and how much you pay for it.
But it's not just about how much cash you'll shell out for a gallon of milk at your local market. As an investor, agriculture is an area that you need to consider when thinking about where to invest long term.
Money Morning Executive Editor and Senior Research Analyst Bill Patalon has identified five food trends that will present serious moneymaking opportunities for investors who are paying attention. Let's take a look at a few...
Editor's Note: One of the fastest-growing tech investment segments is... cannabis? Yes, you read that right. A high-tech approach to cultivating this ancient plant - that's already legal to use in more than half of 50 states - is generating a multibillion-dollar investment opportunity for early investors. Click here to find out more, including how you can get your copy of Michael Robinson's Roadmap to Marijuana Millions. Packed with more than 30 great companies to buy, it's fast becoming "the weed investor's bible." Check it out...
Follow Money Morning on Twitter @moneymorning, Facebook, and LinkedIn.