Despite a 6.3% decline for platinum prices over the last two months, our 2017 platinum price prediction is still extremely bullish.
According to Money Morning Resource Specialist Peter Krauth, platinum prices could climb as much as 34.9% to $1,300 by January 2018.
You see, the precious metal has been dragged lower by short-term factors. The big reason for the decline was the March 15 rate hike, which sent the dollar above the important 100-basis-point level and added downward pressure to dollar-denominated metals like platinum.
But platinum prices have been steadily climbing in recent weeks, up 2.5% to $963.70 since April 10. It appears the metal is slowly crawling out of the recent gully, which is why Krauth - a 20-year veteran of the precious metals market - thinks platinum is setting itself up for a strong 34.9% rebound this year.
Here's the one reason we're overwhelmingly bullish on platinum this year...
1 Factor Behind Our Shocking 2017 Platinum Price Prediction
The biggest catalyst for the platinum price in 2017 will be the metal's growing attractiveness as a safe haven.
You see, a safe haven is a type of investment whose value either increases or stays the same when the stock market declines. The name "safe haven" is appropriate because investors buy it for safety purposes when their portfolio of stocks begins to decline in value.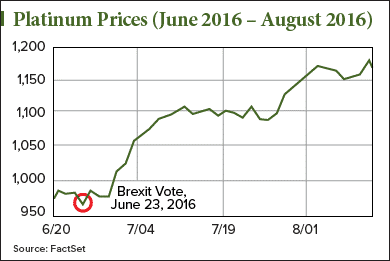 Its safe-haven qualities make platinum an excellent hedge against downturns in the S&P 500 or Dow Jones Industrial Average. This is clear if you look at June 2016, when the Dow Jones plunged 4.8% in just three days after the Brexit vote on June 23.
Uncertainty regarding the lasting effects of the vote pushed the platinum price from $966.30 on June 23 to $1,183.10 by Aug. 10, 2016. That's a 22.4% return in less than two months.
And platinum prices will likely see another rally in the months ahead as more geopolitical events start to rattle the markets...
Free Report: How to Buy and Profit from Gold and Silver in 2017
On April 7, tensions between the United States and Syria reached critical levels when the U.S. hit a Syrian airfield with 59 missiles. This was in response to President Assad's direct role in a chemical attack that killed roughly 70 Syrian civilians on April 4. Relations with North Korea have also started to boil over due to the country's repeated tests of long-range missiles. The country has tested at least seven different missiles so far in 2017.
These ongoing conflicts have made the stock market exceptionally volatile recently. On April 5, the Dow Jones opened nearly 1% higher but ended the day with a 0.2% loss. From April 5 through April 19, the index fell another 1.2%.
Even if you put aside the Syria and North Korea conflicts, investors have been moving more and more money into precious metals out of fear that a stock market crash could come at any moment. As the Trump stock market rally saw the Dow Jones gain a stunning 15.2% from Nov. 8, 2016 (Election Day) to March 1, 2017, investors have started to anticipate a correction. That's why the price of platinum and price of gold are up 6.4% and 10.9% in 2017, respectively.
As investors keep buying precious metals for their safe-haven appeal, platinum prices will rise to our $1,300 price target this year. And the metal's 34.9% price gain should boost the bottom line for several platinum mining companies.
That's why Krauth recently recommended one of the best platinum stocks to buy in 2017. This company just acquired a huge stake in one of the biggest mines in South Africa - the largest platinum-producing country in the world. Shares of this stock are also expected to rally as much as 51.3% over the next 12 months.
Here's the best platinum company to invest in right now...
The Best Platinum Stock to Invest in for a 51.3% Return by Next April