(Kitco News) - It's a big "risk-on" day in the marketplace Monday as the first round of the French presidential elections that were be held on Sunday showed the nationalist candidate Marine LePen garnering less support than expected and dealing the so-called Euroskeptics another blow.
LePen will be in the run-off election on May 7, but so will the centrist candidate, Emmanuel Macron. Macron is projected by early polls to be the winner of the May 7 vote. European market watchers had been very nervous as the French elections approached and polls showed tight races. A few weeks ago the Dutch elections showed the nationalist candidate go down in defeat.
Safe-haven assets gold, U.S. Treasuries and U.S. dollar index prices dropped sharply in overnight trading, while the world stock markets were mostly in a rally mode. The Euro currency pushed to a five-month high on the French election results.
In other overnight news, the closely watched German Ifo business climate index rose to 112.9 in April from 112.4 in March. An April reading of 112.3 was expected.
The other key outside market on Monday morning sees Nymex crude oil prices higher on a corrective bounce after recent selling pressure.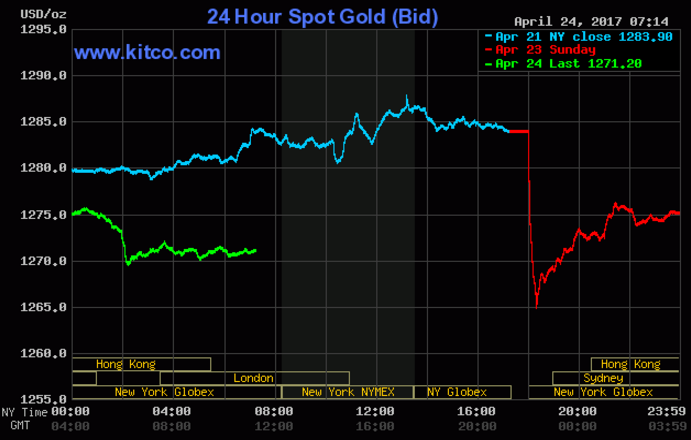 U.S. economic data due for release Monday includes the Chicago Fed national activity index and the Texas manufacturing outlook survey.
By Jim Wyckoff, contributing to Kitco News; jwyckoff@kitco.com
Follow Jim Wyckoff @jimwyckoff for breaking news.