With the increasing potential of a government shutdown on Friday (April 28), many investors are asking, "How will the government shutdown affect me?"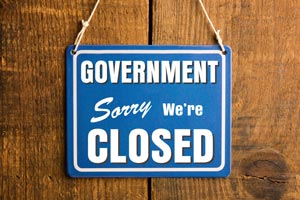 If a spending agreement isn't reached on Friday (click here for more information on the Friday deadline), all of the following services will be affected by a government shutdown on Saturday...
7 Ways You May Be Affected by a Government Shutdown
There are seven major ways you may be affected by a government shutdown...
Free Book: The secrets in this book helped one Money Morning reader make a $185,253 profit in just eight days. Learn how to claim your copy here...
Government Employees: If you are a non-critical government employee, you will be furloughed. The furlough will last until you either are considered a critical employee or the government reopens. Usually furloughed employees do not get paid during the shutdown but will be given back pay once the government reopens.
National Parks and Monuments: You will need to reschedule your visit to national parks and monuments until the government reopens because they are closed during a government shutdown.
Gun Permits: Any gun ownership permits that have not been approved by Friday will be held until the government reopens.
Government Small Business Loans: During a shutdown, no government small business loans will be approved. If you are waiting on an approval, you will have to wait until the government reopens.
D.C. Trash: The city may get smelly if it takes a while for the government to reopen because D.C. trash collection is suspended during a government shutdown.
WIC Benefits: Federal funds for Women, Infants, and Children (WIC) benefits will not be sent to states during the shutdown. Depending on the length of the shutdown, there may not be any gap in benefits. However, if the state you live in runs out of funds before the government reopens, your benefits may have a temporary lapse.
Centers for Disease Control: CDC services will be limited during a government shutdown. This includes investigations into outbreaks.
While all of these will undoubtedly have an impact on many of us, the government shutdown is likely to have an even larger impact on your investments.
However, you don't need to sit idly by and worry about the government shutdown.
As Chief Investment Strategist Keith Fitz-Gerald notes, "chaos always creates opportunity and another government shutdown certainly qualifies."
In fact, here's how investors can bank double-digit profits if there's a 2017 government shutdown...
Double-Digit Profits During a Government Shutdown