With the increasing potential of a government shutdown on Friday (April 28), many investors are asking, "How will the government shutdown affect me?"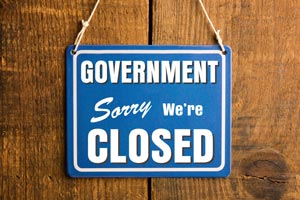 If a spending agreement isn't reached on Friday (click here for more information on the Friday deadline), all of the following services will be affected by a government shutdown on Saturday...
7 Ways You May Be Affected by a Government Shutdown
There are seven major ways you may be affected by a government shutdown...
Free Book: The secrets in this book helped one Money Morning reader make a $185,253 profit in just eight days. Learn how to claim your copy here...
Government Employees: If you are a non-critical government employee, you will be furloughed. The furlough will last until you either are considered a critical employee or the government reopens. Usually furloughed employees do not get paid during the shutdown but will be given back pay once the government reopens.
National Parks and Monuments: You will need to reschedule your visit to national parks and monuments until the government reopens because they are closed during a government shutdown.
Gun Permits: Any gun ownership permits that have not been approved by Friday will be held until the government reopens.
Government Small Business Loans: During a shutdown, no government small business loans will be approved. If you are waiting on an approval, you will have to wait until the government reopens.
D.C. Trash: The city may get smelly if it takes a while for the government to reopen because D.C. trash collection is suspended during a government shutdown.
WIC Benefits: Federal funds for Women, Infants, and Children (WIC) benefits will not be sent to states during the shutdown. Depending on the length of the shutdown, there may not be any gap in benefits. However, if the state you live in runs out of funds before the government reopens, your benefits may have a temporary lapse.
Centers for Disease Control: CDC services will be limited during a government shutdown. This includes investigations into outbreaks.
While all of these will undoubtedly have an impact on many of us, the government shutdown is likely to have an even larger impact on your investments.
However, you don't need to sit idly by and worry about the government shutdown.
As Chief Investment Strategist Keith Fitz-Gerald notes, "chaos always creates opportunity and another government shutdown certainly qualifies."
In fact, here's how investors can bank double-digit profits if there's a 2017 government shutdown...
Double-Digit Profits During a Government Shutdown

[mmpazkzone name="in-story" network="9794" site="307044" id="137008" type="4"]
The last government shutdown came in 2013. In 2015, there were fears the government would shut down again, but it was narrowly averted.
"The last government shutdown, as costly and embarrassing as it was for this country, created some quick double-digit profit opportunities for savvy investors," said Money Morning Chief Investment Strategist Keith Fitz-Gerald leading up to the 2015 agreement.
And this shutdown is likely to bring opportunities for double-digit profits as well. The trick to capturing these profits is to prepare now.
By placing "lowball orders" for solid companies ahead of time, you position yourself to profit even if the rest of the market is in panic mode.
A lowball order is an order you place with your broker that specifies a stock, the number of shares, and the price at which you want to purchase those shares. This price target is usually far lower than the current market price, hence the name lowball (check out Fitz-Gerald's article for more information on placing lowball orders).
Because these orders are not executed until your target company reaches the price you specify, you can place them ahead of time and then sit back and wait for the market to come to you. This helps keep risk low and potential returns high.
And if you really want to turbocharge your portfolio, consider combining "lowball orders" with buying "must-have" companies that fall into what Fitz-Gerald calls the six Unstoppable Trends: Medicine, Technology, Demographics, Scarcity & Allocation, Energy, and War, Terrorism, and Ugliness. What makes them special and very profitable, Fitz-Gerald notes, is that "each of the Unstoppable Trends is backed by trillions of dollars that Washington cannot derail, the Fed cannot meddle with, and Wall Street cannot hijack." That means there will be plenty of money supporting your move and that stocks meeting this criteria will be in demand regardless of economic conditions that devastate most investors.
Any lowball order you place should be for a company "that you'd buy if it ever went 'on sale,'" said Fitz-Gerald.
While every industry and sector is likely to drop in price as the markets react to a government shutdown, none has faster rebound potential than defense - which is part of War, Terrorism, and Ugliness. That's your entry point, according to Fitz-Gerald.
For example, in 2013, the Dow dropped 2.45% between Sept. 27 and Oct. 4 (the government shutdown occurred when a budget wasn't approved Sept. 30). Defense stocks, on the other hand, were down 7%. However, these defense stocks were still great buys, they had just gone "on sale." None of the fundamentals of these companies had changed. Instead, worried investors sent the share prices lower in a knee-jerk reaction. That made them ideal for lowball orders.
Two companies that Fitz-Gerald recommends as a starting point this time around are Lockheed Martin Corp. (NYSE: LMT) and Raytheon Co. (NYSE: RTN).
Lockheed Martin is a leader in the global market of defense, security, and aerospace technology. Given the current geopolitical tensions in Asia and beyond, this company's products and services will be in high demand over the coming months whether there is a government shutdown or not.
That demand will continue to fuel growth for the foreseeable future. In fact, Lockheed Martin is up 10.5% so far this year, while the Dow is only up 5.1%, more than doubling the market.
Raytheon is another company that is positioned to profit from the geopolitical tensions regardless of a government shutdown. Among other things that are a part of its global portfolio, Raytheon is the company that manufactured the missiles fired at Syria on April 6. The next day, Raytheon stock was up over 2%. So far this year, the company is up 9.9%.
Regardless of whether the government shuts down or not on Friday, these two companies have a large profit opportunity. That opportunity will be greater if the government shuts down because the markets will panic and sell off.
The growth potential of these companies is what makes them desirable for a lowball order in case of a government shutdown. That potential is what you should look for in any of the companies you place lowball orders for this week.
Rare Gold Anomaly: The first time it created $1.25 billion in new wealth virtually overnight. The second time, it created a cash windfall of $6 billion - both times making in-the-know investors flat-out millionaires. And it's about to happen again, only this time we expect the cash windfall to reach $13 billion. If you take advantage of this rare gold anomaly right now, you, too, could walk away a millionaire. Details here...
Follow Money Morning on Twitter @moneymorning, Facebook, and LinkedIn.