Chinese investments are critical to the U.S. economy…
Many investors don't realize a whopping "40% to 60% of the revenue from S&P 500 companies in fact comes from China, or China-related trade," Money Morning Chief Investment Strategist Keith Fitz-Gerald explained to FOX Business host Stuart Varney back on Dec. 5, 2016.
Indeed, numerous American companies take advantage of cost-cutting opportunities afforded to them by China, and in turn, China enjoys benefits of trade. And the numbers show it:
Roughly 35% of China's GDP comes from "processing trade" – a method of doing business that benefits both U.S. and Chinese companies. Processing trade, simply put, is when a Chinese company imports individual components of a product from an international company back to China. The Chinese company assembles the parts in China then exports the finished product back to the international company, where the product will be sold to consumers.
Take Nike Inc. (NYSE: NKE), for example. It takes advantage of processing trade by exporting the rubber, cotton, and polyester to companies like Zhejiang Qiaoer Tinting Garment Co. Ltd. in China for free. In return, Zhejiang assembles the raw materials into shoes, then ships the shoes back to Nike for retail in the United States.
The "swap" is mutually beneficial to the United States and to China; the Chinese companies do not have to pay for the raw materials, and U.S. companies benefit from cheap labor.
In order to make this type of trade even more lucrative, Chinese firms sometimes acquire the U.S. companies that they trade with in order to own all steps of the process. For instance, imagine if the Chinese manufacturer for Nike were to buy Nike as a whole; it would then own both the manufacturing and retail businesses.
For many U.S. companies, it's more than a hypothetical scenario…
Last year, Chinese firm Tianjin Tianhai bought the California-based company Ingram Micro, the world's largest wholesaler in technology products and services, for $6.1 billion. In the same year, Haier, a massive Chinese consumer electronics and appliances company, bought Massachusetts-based General Electric Co.'s (NYSE: GE) appliance unit for $5.4 billion.
In fact, from 2000 to 2016, China has acquired 677 U.S. businesses across the country, amounting to over $60.7 billion.
Here are the states getting the most of that money…
China's Top Investment Destinations in America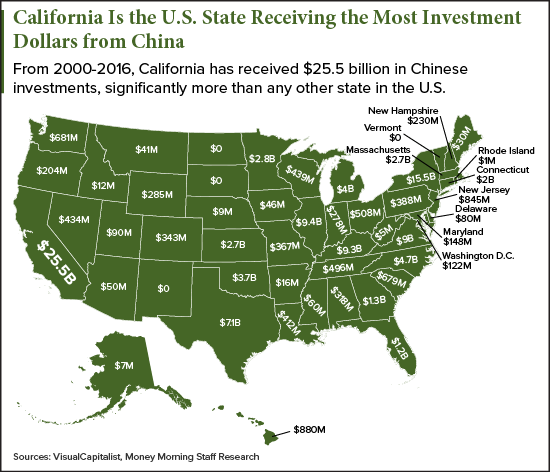 The industries in the United States that have received the most Chinese investments so far are real estate and hospitality ($29.5 billion), information technology ($14.2 billion), energy ($13.4 billion), and entertainment ($8.8 billion).
Don't Miss: Trump's Secret Weapon Set to Foil China's Master Plan
To capitalize on the U.S.' strong trade relationship with China, Fitz-Gerald suggests looking at companies like Alibaba Group Holding Ltd. (NYSE: BABA), "which dominates Chinese e-commerce the way Amazon.com Inc. (Nasdaq: AMZN) does in the United States," or Baidu Inc. (Nasdaq: BIDU), which "mirrors Alphabet Inc. (Nasdaq: GOOGL)."
Another company Fitz-Gerald is watching is Starbucks Corp. (Nasdaq: SBUX).
The company is expanding its presence in China — it plans to have more than 5,000 stores opened by 2021 — a 1,150% increase from the 400 SBUX stores local to China in 2011. It also intends to install a 30,000-square-foot premium roaster on West Nanjing Road in Shanghai's shopping district.
Fitz-Gerald "likes the fact that the company is constantly improving Chinese operations and, in the process, making the most recently opened stores orders of magnitude more profitable than earlier iterations." All this meaning investors can tap into the Chinese consumer market with a well-known American company.
Trump's Secret Weapon Against Chinese Aggression: Hostilities in the South China Sea now seem imminent, and the Trump administration could be on the verge of its first major crisis. But thanks to a small $6 U.S. defense firm with a top-secret new technology, China is about to be taken to the woodshed. Frankly, you have to see it to believe it…
For constant updates on China and North Korea, follow Money Morning on Twitter @moneymorning, Facebook, and LinkedIn.