Amazon stock (Nasdaq: AMZN) is trading in record-high territory today ahead of its Q1 earnings report. We expect more record highs from this innovative leader in the months ahead.
The world's largest Internet-based retailer, Amazon.com, is a rule-breaker. It is also so popular that it is arguably the reason why market share of traditional bricks-and-mortar retailers is shrinking - and fast.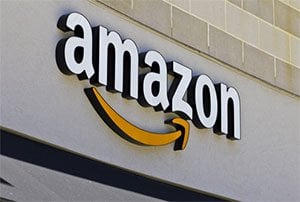 Amazon's strategy has been to plow its profits back into the business, and for that it has earned an unusually high stock valuation as measured by its price/earnings ratio - the stock trades at around 187 times earnings.
Normally, a high PE ratio suggests a stock is too expensive. Perhaps the stock price ran higher without a commensurate increase in earnings, or earnings declined rapidly and price did not move at all.
But there's good reason why the market is willing to pay more for shares of Amazon now for the promise of much higher earnings later.
Investors Bet Big on Amazon Stock Growth
Amazon has sported much higher PE ratios in the past, and even that did not stop its bull market. At the end of 2015, Amazon traded near $663 and had a PE ratio of 977.
Pundits said it was too high then, but the stock gained an additional 36% to today's levels. They forgot that disruptive stocks such as this one must be judged by different criteria.
"Amazon's not a conventional company, which is why conventional metrics often used to judge overall market conditions and the relative attractiveness of specific stocks don't apply," Money Morning Chief Investment Strategist Keith Fitz-Gerald wrote to his Total Wealth research service readers this week. "Research, in fact, shows that PE ratios have very little predictive value when it comes to identifying the most successful investments."
Sign up for SMS so you never miss special events, exclusive offers, and weekly bonus trades.
A few looks at traditional retailer stock performances are all the proof we need to see Amazon's effect on the industry. Amazon is eating their lunch. And dinner. And a snack.
Macy's Inc. (NYSE: M) is down 53% from its 2015 peak. Its strategy, along with most upscale retailers, was to create the "shopping experience" to attract business. The public seems to have rejected experience in favor of convenience in recent years.
Sears Holdings Corp. (Nasdaq: SHLD), owner of the Sears and K-Mart chains, is down 95% from its peak way back in 2007.
Fitz-Gerald listed Sears as a "portfolio killer" in his Total Wealth service last week.
Elsewhere, Wal-Mart Stores Inc. (NYSE: WMT) used to hold the crown of the largest retailer with its no-frills approach and low prices. Wal-Mart stock is down 16% from its 2015 peak, though it has been strong over the past year as it attempts to improve its online presence. Why? To compete with Amazon.
Target Corp. (NYSE: TGT) tried to move online and could not do it. Target stock is down 35% from its 2015 peak.
Trending: The Best Stocks to Buy for Mega-Profits in 2017
We can even see the devastation in mall owners, too. Real estate investment trusts (REITs) focusing on shopping centers did a decisive - and bearish - about-face last year. While the broader market found its footing after the election, shopping REITs continued to flounder.
Simon Property Group Inc. (NYSE: SPG), the largest domestic shopping REIT by market capitalization, is now down 26% from its July 2016 high. Stores in its malls are closing. Just this week, women's fashion and accessory retailer Bebe Stores Inc. (Nasdaq: BEBE) announced it was closing all of its stores and liquidating its assets. Bebe has been a fixture in malls across the country for years. Its time is over.
Amazon is taking full advantage of these trends.
And what's key to understand is that Amazon is much more than a retailer.
Amazon Stock Potential Goes Beyond Retail Domination
Not only does Amazon sell merchandise, but it leads in streaming services, e-reader downloads with its Kindle product, entertainment production, and cloud infrastructure services. And Amazon's plan for product delivery by drone is a major story for customers and investors.
Investors are quite excited about Amazon as a retailer and as a technology company. It's in the "fabulous five" technology stocks, and it's leading the pack by innovation.
There is a caveat for investors in the short term. Amazon stock is up more than 20% since the election, and for a company this large, that is a huge gain. Some technical indicators suggest the pace of the rally is waning. And as the conversation about its stock price turns towards reaching the $1,000 level, a little less than 100 points away, there is an argument that expectations are too high in the short term.
The company is expected to report earnings after the bell today, April 27, and that could be a catalyst for volatility. However, whether the earnings are less than expected and the stock dips, or they are better than expected, the long-term conditions still seem sound.
"Amazon may well be the only company in the world that you can buy today and expect to hold for the rest of your investing lifetime," Fitz-Gerald said recently. "There's no doubt that Amazon will go up and down, but what makes it so very compelling is that the odds that Amazon will go out of business are virtually nil."
This "Secret" Helped Transform Two Teachers into Millionaires: Today Donna and Dave R. are retired millionaires who are also earning $10,000 a month in income. Much of their wealth is due to a Great Depression-era "program" most have no idea exists. Learn more...
Follow Money Morning on Twitter, Facebook, and LinkedIn.