Editor's Note: This story was updated on July 16, 2020.
Now that Lyft has gone public, questions about whether or not to invest in Lyft stock abound. Investors want to have a good understanding of what's happening with Lyft shares before making any decisions.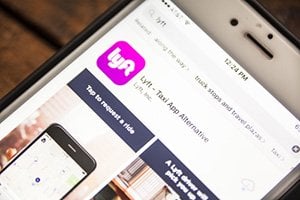 Headlines about Lyft's initial public offering (IPO), which debuted in March 2019 with the Lyft stock symbol (NASDAQ: LYFT), cited an eventful first day of trading.
Since then, the Lyft stock price has dropped. But how much is Lyft stock currently? Could it still be a worthwhile investment?
To help you decide, I spoke with Money Morning Defense and Tech Specialist Michael A. Robinson. He shared some investing tips and information about the ride-hailing sector as an investment…
Is Lyft Profitable?
Lyft's revenue is up to $3.7 billion from $343 million in 2016. That's 978% revenue growth in five years.
Despite that, Lyft is not yet profitable. In fact, the company had a net loss of $2.6 billion in 2019.
The state of the ride-hailing industry was already in question prior to the COVID-19 pandemic. Now, with commuting in question, it doesn't bode well for companies like Lyft.
Imagine If You Could Profit Every Time Someone Logged onto Facebook! Click Here to Find Out How…
A large part of what will determine its profitability will be how it fares going toe to toe with Uber Technologies Inc. (NASDAQ: UBER). The companies have engaged in a battle for the ride-hailing market that has progressively lowered their rates.
The likely winner of the market will be the better innovator. Right now, Lyft has the lead, vowing that 100% of its vehicles will be electric by 2030.
We're yet to see how Uber responds. But whether or not Lyft is profitable down the line will depend on what they can do to snuff out the competition.
How Much Is Lyft Stock Worth?
Right now, Lyft stock goes for around $34. It's up 112% since bottoming at $16 in mid-March of the coronavirus crash.
The average analyst target is $41 over 12 months. But some analysts say it could even hit $60.
This will depend largely on what the world looks like over the next few months and years. If there is another wave of COVID-19 come fall, the ride-hailing industry could struggle again, and the stock may shoot lower.
If Lyft and Uber continue to sink rates in a price war, that is also likely to plunge the stock.
With so many strong variables threatening Lyft's profits, the stock could be overvalued. But only time will tell…
When Was the Lyft IPO?
The Lyft IPO debuted on Friday, March 29, 2019. Shares opened at $87.24 and ended the day at $78.29.
Considering that underwriters priced the IPO at $72 per share just a day prior, it seemed the Lyft stock was well on its way to success.
However, the price of Lyft stock has been more than chopped in half since then, losing 56%.
This smacks of the typical overhyped IPO we've seen from many similar flashy tech companies in the past.
Recovery for the Lyft stock would have to mean dominance in the ride-hailing field, followed by prudent trimming of debt over many years.
But the ride-hailing industry appears to stick. And innovations in driving technology could actually make this possible…
Predictions Prior to the Lyft IPO
"The private driver space will be big for some time to come, especially considering that driverless cars will enter this space in the next few years," Robinson told me on April 25.
"The main thing will be how that IPO gets shaped by the financial media. There will be a lot less pressure on Lyft than on Uber, which has a pre-market value of $68 billion, more than nine times that of Lyft's valuation of $7.5 billion."
"Once people take Lyft or Uber instead of a taxi, it's hard for them to go back to the old way of hailing a ride," Robinson said.
Robinson is spot on…
According to a December 2015 Pew Research Center study, 68% of adults who use ride-hailing apps found services like Uber and Lyft less expensive than a taxi. And as you can also see from the accompanying chart, 60% of ride-hailing apps were more reliable than taxis or public transit.
This shows ride-hailing services are more than just a trend.
At this point, it's too late to invest in Lyft's IPO. But Michael Robinson currently has a way to invest in new IPOs.
It's one of the best ways for investors to manage their risk while still making a profit from new IPOs…
This Trick Beats Investing in IPOs
Some people think the best chance of profiting from a good stock is to invest in the IPO. But this is no longer true.
Twenty-two friends of Jeff Bezos put $50,000 into Amazon.com Inc. (NASDAQ: AMZN) when it was founded in the '90s. Each of those stakes turned into $8.5 billion down the road.
That's 17,000,000% growth.
Those friends were called "angel investors." They invested in the company prior to IPO, believing it showed promise. And it delivered big time.
What's changed today is that you no longer need a fat wallet to be an angel investor.
The Jumpstart Our Business Startups (JOBS) Act of 2012 made it possible for investors to crowdfund startup companies. That opened the potential for the average investor to buy a small fraction of a startup company for potentially enormous profit down the road.
This is exactly how angel investors operate. They fund companies in the early stages, when no one else is willing to take the risk.
The trouble is that there are over 300 million startups out there. And most of them fail. So how do you go about choosing the right ones?
That's what the Angels & Entrepreneurs Network was created for. It's a community that learns from only the most experienced angel investors. Together, they discover the most promising startups based on what the market needs and who is providing it.
You can join them and find out which startups to invest in right now. This is how you become an angel investor.
Why Startups Can Have an Edge During a Recession
Uber, Airbnb, Slack, Pinterest, and Venmo have something big in common – something other than their big names.
These startups were founded during the last recession.
And now, some of the most iconic companies of our time could launch into Fortune 500s during days like today.