Lyft is expected to go public within the next three years, but anxious investors want to know, "What is the Lyft stock symbol?"
Unfortunately for anxious investors, Lyft CEO Logan Green hasn't filed for an IPO. So there's no Lyft stock symbol yet.
Only when Green begins the process for going public and hires underwriters will investors know the symbol for Lyft stock.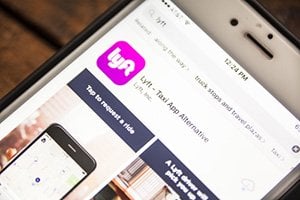 But if Lyft decides to go public sooner than expected, we want to make sure our readers aren't caught off guard.
That's why I spoke with Money Morning Director of Technology & Venture Capital Research Michael A. Robinson and asked him what he thought of the ride-hailing sector as an investment…
What to Know Before the Lyft IPO Date
"The private driver space will be big for some time to come, especially considering that driverless cars will enter this space in the next few years," Robinson told me on April 25.
"The main thing will be how that IPO gets shaped by the financial media. There will be a lot less pressure on Lyft than on Uber, which has a pre-market value of $68 billion, more than nine times that of Lyft's valuation of $7.5 billion."
"Once people take Lyft or Uber instead of a taxi, it's hard for them to go back to the old way of hailing a ride," Robinson said.
Robinson is spot on…
BREAKING: New legislation could turn tiny pot stocks into millions. You have to see this! Click here…
According to a December 2015 Pew Research Center study, 68% of adults who use ride-hailing apps found services like Uber and Lyft less expensive than a taxi. And as you can also see from the accompanying chart, 60% of ride-hailing apps were more reliable than taxis or public transit.
This shows ride-hailing services are more than just a trend. But unfortunately, investors still have to wait to invest in Lyft. However, Robinson currently has a way to invest in new IPOs.
And it's one of the best ways for investors to manage their risk while still making a profit from new IPOs…
The Best IPO Investment to Own Before the Lyft Stock Symbol Is Revealed