Between April 18 and April 19, Facebook Inc. (Nasdaq: FB) presented the future of virtual reality (VR) and augmented reality (AR) at its developer conference.
The service is called "Facebook Spaces".
Facebook Spaces is an AR/VR platform where friends can interact with each other through Facebook's VR headset, Oculus Rift. According to The Verge, anyone with Rift and Touch (controllers) can join up to three other people to watch videos, take photos, and perform other activities together in a VR world.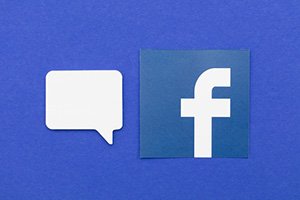 Through the platform, users create an avatar with custom clothing and animated faces. Once within the VR world, anything the avatar character draws will be turned into an interactive object.
For example, you could draw a hat and wear it on your head. And according to The Verge, you could even draw a sword and swing it around. Avatars will even be able to take selfies within Facebook Spaces.
Facebook's new AR/VR creation is revolutionary, as CEO Mark Zuckerberg is once again shaping how the world communicates and interacts.
But it left shareholders wondering how it will make the social media giant any money.
Zuckerberg has a plan to monetize the company's AR/VR capabilities, and he also plans to dominate the future $122 billion AR/VR industry...
How Facebook Spaces Will Generate Massive Revenue
VR and AR advertising is a new revenue model, so there aren't any projections on how big this market will grow.
However, TechCrunch does project the AR/VR market will be worth between $94 billion and $122 billion by 2021. And if anyone knows how to monetize a new platform, it's Zuckerberg.
"The big breakout over the long term will be in mixed reality, and Zuckerberg seems to understand the market potential here. That plays off its live streaming video and mobile and could find a nice niche in the enterprise market. Its global audience is second to none," Money Morning Director of Tech & Venture Capital Research Michael A. Robinson told me on April 25.
Trending: Will the Facebook Stock Split Date Happen in 2017?
Zuckerberg could make billions for Facebook Spaces through advertisers paying to sponsor events and social interactions in AR/VR worlds.
Imagine two friends "clothes shopping" in a VR retail store, looking to buy sneakers. Nike Inc. (NYSE: NKE) or Under Armour Inc. (NYSE: UAA) could pay to have signs within the VR store promoting their products and deals.
The companies could even send a virtual coupon to redeem for real shoes.
The transaction could then take place in Facebook's Messenger, which would allow users to buy real items and have them shipped to you.
I know this sounds far-fetched. But advertisers are already paying to sponsor virtual experiences.
For example, Coca-Cola Co. (NYSE: KO) sponsored a VR event during the 2014 World Cup. Fans were able to walk from a locker room onto a soccer field, and then play on the field through a VR headset, as you can see in the accompanying video below.
Instead of just bombarding young soccer fans with TV ads, this was a more natural form of advertising. The VR users had a positive experience, and that was subliminally connected to Coca-Cola.
So the next time the VR users buy a soft drink, they may feel more loyalty to pick a Coke product because of the fun and positive experience Coke provided.
The mainstream media is still slow to see just how much money Zuckerberg will make in advertising revenue from Facebook Spaces. They're also completely missing how much money retail investors like you can make in the next three years.
Fortunately, we've been watching this push into AR/VR for years. And we don't want Money Morning Members to miss out on the profit opportunity that is soon to follow.
That's why we had to make sure you saw Robinson's bold Facebook stock price prediction right now...
Our Bold Facebook Stock Price Prediction Shows Gains of Nearly 70%