What is the current Dropbox stock price?
The simple answer is there isn't a Dropbox stock price yet. Although the tech company consulted advisors in August 2016 about a public offering, an IPO date hasn't been set.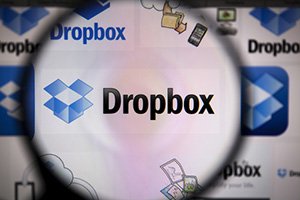 And without an IPO, there's no listing on a stock exchange and no stock price.
But because the Dropbox IPO is inevitable, we want to make sure our readers know everything about the company before it goes public.
What Is Dropbox?
Dropbox was founded in 2007 and is a hosting service that provides cloud storage, file synchronization, and personal cloud services.
It's convenient for clients to use because once files - text, videos, pictures, and more - are loaded to Dropbox, they can be accessed on any device (smartphone, personal computer, netbooks, and so forth).
Files are also highly secure through a special encryption process.
The company provides a "freemium" model - a setup where storage capacity is limited. It then offers upgrades at higher pricing points. It also has a paid model that varies in price depending on storage needs.

According to its website, it costs $9.99 per month to upgrade a Dropbox account for additional features. Users can save money by paying $99 for the year.
As of March 2016, the cloud storage company had 500 million individual users and 200,000 business clients as of July 2016.
And that massive user base is what has Wall Street so interested in the Dropbox IPO...
When Is the Dropbox IPO?
According to Bloomberg, CEO Drew Houston said DropBox's meetings with banks about a potential IPO in August 2016 were just exploratory.
Dropbox was most likely seeking parameters on a valuation because the value of the company is contested.
Dropbox had a valuation of $4 billion in 2011. After a $250 million round of funding in 2014, the company was valued at $10 billion.
Business Insider reports that T. Rowe Price Group Inc. (Nasdaq: TROW) purchased Dropbox stock for $19.10 per share in that funding round.
However, T. Rowe marked down its holdings in Dropbox by 51% and valued its shares at $9.40 as of Dec. 31, 2015. And according to The Wall Street Journal, Fidelity Investments, which purchased stock in Dropbox in 2012, marked down its shares by 20% in February 2016.
Trending Now: Is This Extremely Secretive $4.7 Billion Company About to Go Public?
Because of these markdowns, investors have been asking us if it's too risky to invest in Dropbox stock when the company goes public.
We turned to Money Morning Director of Tech & Venture Capital Research Michael A. Robinson for the answer...
What You Need to Know Before Investing in Dropbox Stock