The EB-5 visa program – dubbed the "Golden Visa" program – was set to expire on Friday (April 28), but will now be on the chopping block this week.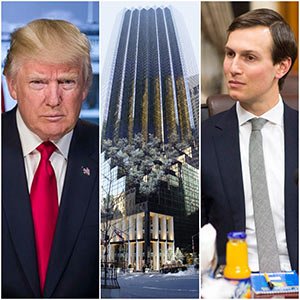 The controversial visa program, which allows wealthy foreigners to essentially "buy" green cards in exchange for an investment in a commercial enterprise, has rebuilt the skylines of Manhattan and Miami. In fact, the program helped fund one of President Trump and Jared Kushner's signature investments – the 50-story Trump Bay Street tower in New Jersey.
You see, over a quarter of that project's funding – $50 million – came from EB-5 investors.
But even though Trump and Kushner have directly benefited from the program's funds, the new administration is expected to either scrap or dramatically reform the bill to align with Trump's "America first" agenda.
Now, the EB-5 program is essentially in limbo and rests at the whims of a new president and his administration…
The "Golden Visa" Program Explained
Known by many as the "investor visa," or the "Golden Visa," the EB-5 visa has been around since 1990. The program garnered attention during the 2008-09 financial crisis when businesses, primarily real estate developers, were unable to get commercial loans and turned to foreign investors to fund projects.
"It is wrong to have a special pathway to citizenship for the wealthy while millions wait in line for visas."
According to an April 27 report by Forbes, in order to qualify for the visa, immigrant investors must make a minimum investment of $1 million, or $500,000 if the project is located in an area in need of development. Additionally, the investment must lead to at least 10 new full-time jobs.
As a gift for the cash, foreign investors get American citizenship for themselves, their spouse, and their children.
The program has proved to be beneficial…
Must Read: This Penny Stock Will Double Your Money – and Save a Dying U.S. Industry
According to 2013 data from the U.S. Department of Commerce, more than 11,000 immigrant investors have provided more than $5.8 billion in capital in exchange for the visas – resulting in over 174,039 American jobs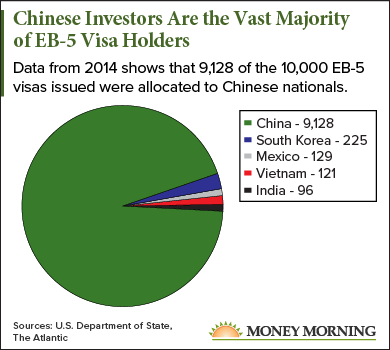 Most of the EB-5 visa projects have taken place in California, New York, Florida, Texas, and Alabama, with California being the biggest recipient of foreign funds.
However, some senators want to make major changes to the system. And others wants to kill the program entirely…
An Uncertain Future
The visas, criticized as "green cards for cash," now face a questionable future, with some members of Congress refusing to reauthorize the program without significant reform.
According to The Washington Post on April 27, both Sen. Charles E. Grassley (R-IA), chairman of the Senate Judiciary Committee, and Sen. Diane Feinstein (D-CA), have proposed reforms, along with their counterparts in the House. In fact, in January, Grassley and Feinstein introduced a bill to eliminate the visa entirely.
Feinstein, calling it "U.S. citizenship for sale," said in a statement: "It is wrong to have a special pathway to citizenship for the wealthy while millions wait in line for visas," reported The Post.
Under the bill proposed by Grassley and Feinstein, the minimum investment for areas in need of development would rise to $800,000. Additionally, a portion of EB-5 visas would be reserved for rural areas, and the bill would impose stricter criteria for defining needy areas.
Now, President Trump has until the end of the week to figure out what he wants to do.
Last week, the White House issued a statement to The Post confirming that the Trump administration is weighing changes to the foreign investor visa program.
"There are serious concerns held by the administration regarding the EB-5 visa program, in part because it is not being used as it was primarily intended," said Michael Short, a White House spokesman. "The administration is continuing to evaluate reforms to the program, which we believe is in need of substantial repair."
For now, many wealthy would-be immigrants are left squirming to see what the administration does next – especially Chinese investors.
About 10,000 EB-5 visas are issued each year; over 90% go to Chinese nationals, according to federal data compiled by Invest in the USA, an EB-5 trade association. Vietnam, India, South Korea, and Mexico follow as the next-largest contributors.
Trump's Secret Weapon Against Chinese Aggression: Hostilities in the South China Sea now seem imminent, and the Trump administration could be on the verge of its first major crisis. But thanks to a small $6 U.S. defense firm with a top-secret new technology, China is about to be taken to the woodshed. Frankly, you have to see it to believe it…
Follow Money Morning on Twitter @moneymorning, Facebook, and LinkedIn.