(Kitco News) – Global stock markets were mixed overnight. There were no major geopolitical developments over the weekend to rattle the markets. The U.S. Congress and Trump administration did agree to extend the debt limit to keep the government operating.
Gold prices are weaker amid the generally upbeat trader and investor attitudes that are prevalent in the world marketplace at present.
In overnight news, China's official manufacturing purchasing managers' index fell to 51.2 in April from 51.8 in March. The April report was in line with market expectations.
The markets' data-point highlight of the week is the Federal Reserve's Open Market Committee (FOMC) meeting that begins Tuesday and ends Wednesday afternoon with a statement. No change in U.S. monetary policy is expected at this meeting. However, as usual, the wording of the FOMC statement released early Wednesday afternoon will be parsed for any clues on future U.S. monetary policy moves.
The key outside markets on Monday morning see the U.S. dollar index trading near steady. The greenback bears still have the overall near-term technical advantage. Meantime, Nymex crude oil prices are slightly lower and bears also have the near-term technical advantage.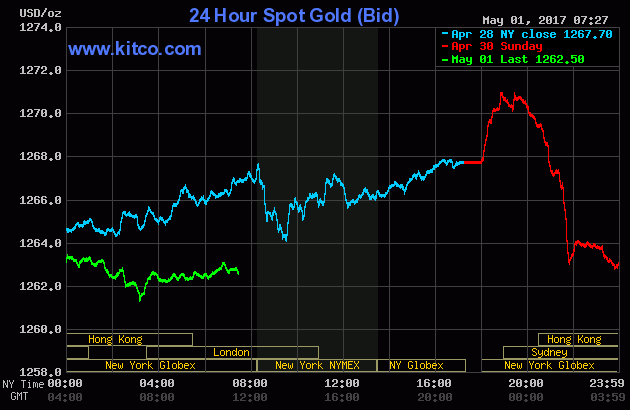 U.S. economic data due for release Monday includes personal income and outlays, the U.S. manufacturing PMI, construction spending and the ISM manufacturing report on business.
By Jim Wyckoff, contributing to Kitco News; jwyckoff@kitco.com
Follow Jim Wyckoff @jimwyckoff for beaking news