Since then, the company has weathered three of the biggest financial crises in U.S. history: the stock market crash of 1987, the dot-com bubble, and the Great Recession.
Today, it's the most valuable company in the world, with a market capitalization of $790 billion.
Of course, this title may not come as a surprise for those who invested in the computer company at its IPO date 37 years ago.
Those investors are very, very rich now…
Apple's 1980 IPO: Largest in the U.S. Following Ford's 1956 Debut
Apple Inc. had raised $100 million in capital by the day it went public on Dec. 12, 1980, making it the largest public debut since Ford Motor Co.'s (NYSE: F) in 1956.
AAPL shares sold out right away – all 4.6 million of them (each worth $22 at the time). Venture capitalist firm Venrock – owned by the Rockefeller dynasty – bought 3.8 million shares alone. By closing bell, Apple had increased in value 32% to close at $29, creating $300 million more in market cap than any other IPO in U.S. history at the time.
Energy Breakthrough: One gallon of this new "crystal fuel" could get you from New York to L.A. and back… seven times! Read more…
Since that day, Apple stock has split four times. These stock splits served to make shares easier to buy for individual investors. For example, during Apple's most recent stock split in 2014, shares went from trading at just under $700 each to under $100 each – a "seven-for-one" stock split.
Here's a historic look at Apple's four stock splits over the years:
June 16, 1987: Apple split shares two-for-one
June 21, 2000: another two-for-one stock split
28, 2005: a third such split
June 9, 2014: a seven-for-one split
Through all these splits, a single $22 share purchased back in 1980 would have multiplied 56 times into 2,520 shares today.
That means if you'd put $990 down at Apple's IPO (as close to $1,000 as you could get with a multiple of $22 – 45 shares), you would have $361,998.00 now – just from that investment alone.
That's a 28,700% return.
Not too shabby.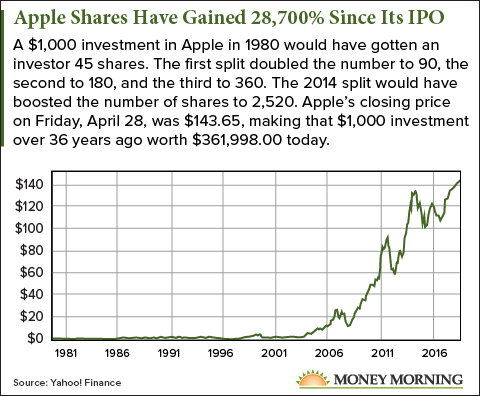 And that doesn't include investor perks like dividends and buybacks. Apple has paid dividends annually since 2012. It's spent $144 billion total on stock buybacks in the past five years as well…
Which brings us to what makes Apple's earnings report this afternoon so special.
Time for an Apple Income Bonanza?
Just after market close this afternoon (Tuesday), Apple will report Q1 2017 earnings.
Apple investors – recent shareholders as well as loyalists who've been with the company from the beginning – expect nothing short of historic results.
And for good reason…
Shares of the tech giant have risen by more than 20% so far this year, from $116.15 on Jan. 3 to an all-time high of $146.58 on Monday.
Today's earnings report just happens to be the time of year that the company revisits its "capital allocation programs," which are investor initiatives that come in the form of dividends and stock buybacks. Such investor return programs serve to reward shareholders even more for their loyalty with added cash (dividends) or extra stock (buybacks).
Apple's investor return program in particular has increased over $200 billion in the past five years – from $45 billion in March 2012 to $250 billion this quarter.
These incentives, combined with the AAPL share price surges of late, have investors on the edge of their seats today in optimistic anticipation.
Including us.
In fact, we're more optimistic than the mainstream financial media and Wall Street – both institutions that consistently fail to hit the mark with their Apple stock price targets.
For example, last July Money Morning Chief Investment Strategist Keith Fitz-Gerald appeared on FOX Business' "Varney & Co." to reiterate his Apple stock price target of $200. It was trading at just $103, and the Wall Street consensus target was $121.95.
"I think the whiners are out in left field," Fitz-Gerald told host Stuart Varney. "They say Apple's got too much cash, Apple doesn't understand its products. I think Apple understands exactly what it's doing and they know exactly where they're going."
Yesterday (Monday), AAPL stock closed at about $146.58. And Wall Street's one-year price target? $148.96.
Here's where we expect Apple to go from here…
Rare Gold Anomaly: The first time it created $1.25 billion in new wealth virtually overnight. The second time, it created a cash windfall of $6 billion – both times making in-the-know investors flat-out millionaires. And it's about to happen again, only this time we expect the cash windfall to reach $13 billion. If you take advantage of this rare gold anomaly right now, you, too, could walk away a millionaire. Details here…
Follow Money Morning on Twitter @moneymorning, Facebook, and LinkedIn.
Related Articles: