Private companies are racing to go public in 2017, which is why we're keeping track of the top IPOs to watch for Money Morning Members.
According to Renaissance Capital, a manager of IPO-focused ETFs, 45 IPOs have priced as of May 1, 2017. That's an increase of 181% from the number of IPOs during the same period in 2017.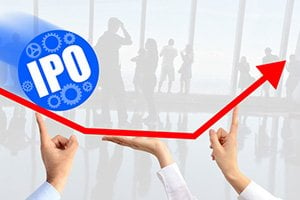 As a service to Money Morning Members today, we've compiled some of the top IPOs to watch this month to help keep track of all the newly listed companies. And we're watching these public offerings specifically because of how well other recent IPOs have performed in the same sectors.
Three of the companies are in the healthcare field. During Q1 2017, the average IPO return of healthcare stocks was 15.8%, according to Renaissance Capital.
Three of the other companies we're watching are in real estate, construction, and finance, which have all seen profitable IPOs this year, too.
The last company we're watching is in the energy field. While energy IPOs have lagged other IPO returns in Q1 2017, with an average loss of 13.2%, there weren't any energy companies that went public in Q1 2016. In comparison, five energy companies went public in Q1 2017. That suggests the executives of these companies feel more confident about their ability to raise capital to expand their businesses.
That makes energy stocks still worth watching.
Trending: Top IPOs to Watch in 2017
For your convenience, we've compiled the most important information about these seven May 2017 IPOs all in one table, which includes:
Stock symbols
Prices
Expected trade dates
We've also provided an overview of the business for each company. Plus, we'll also provide a special bonus profit opportunity that is only available to a limited number Money Morning Members today.
We'll get to that profit opportunity in just a bit.
But first, we had to make sure you saw our list of IPOs to watch right now, because three of these companies are expected to trade to the public in the next two days...
Our Top IPOs to Watch for May 2017
Our accompanying table contains the company name, stock symbol, expected IPO pricing, and expected trade date of each soon-to-be publicly traded company.
| | | | |
| --- | --- | --- | --- |
| Company | Stock Symbol | Price | Expected Trade Date |
| Biohaven Pharmaceutical | BHVN | $14-$16 | 5/4/2017 |
| Liberty Oilfield Services | BDFC | $16-$19 | 5/4/2017 |
| UroGen Pharma | URGN | $12-$14 | 5/4/2017 |
| Ovid Therapeutics | OVID | $15-$17 | 5/5/2017 |
| Guaranty Bancshares | GNTY | $26-$28 | 5/8/2017 |
| ASV Holdings | ASV | $8-$10 | 5/8/2017 |
| Five Point Holdings | FPH | $18-$20 | 5/10/2017 |
And as promised, here is an overview of each company...
Top IPOs to Watch in May 2017 No. 7: Biohaven Pharmaceutical Holding