Even when done legally, delivering and selling marijuana can still be dangerous. Some drivers are being held up at gunpoint and have to watch as their money, marijuana, and cars are stolen.
Video
Marijuana Drone Delivery
But some industry members have begun investing in drones, and that could change many of those delivery problems...
A three-year-old medical marijuana delivery startup called Eaze plans to deliver medical marijuana through remotely piloted aircraft.
And it could make the projected $127 billion drone market skyrocket even higher...
Drone Stocks Could Soar as Marijuana Companies Start Investing in Drones
Marijuana is a cash-only business because it's still considered illegal under federal law.
And when a business is cash-only, it increases the odds it could be robbed. According to business development firm SIVA Enterprises, the odds of a cannabis dispensary getting burglarized in 2015 were 50%. In comparison, banks had a 34% chance of being burglarized in 2009, while convenience and liquor stores only had a 20% chance.
Unfortunately, cannabis delivery drivers are also being robbed.
According to CBS, a marijuana delivery driver for an unidentified service was robbed at gunpoint on Jan. 29, 2016, in San Francisco. The robbers reportedly pretended to be customers and stole the driver's wallet, phone, money, marijuana, and his car.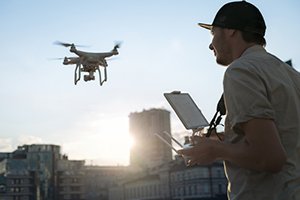 The marijuana was worth roughly $8,000.
However, companies like Eaze could limit the risk by investing in drones. A camera connected to the tiny aerial vehicle allows the operator to see who is awaiting a delivery.
If there were any would-be robbers, or if something seemed amiss, the drone driver could just fly it back to the dispensary. And not only would drone deliveries increase safety in the cannabis industry, they would also help companies save a massive amount of money.
According to Recode, if 66,000 USPS drivers cut just one mile a day off of their routes, the company would save a whopping $50 million per year.
Trending: The Next 3 States to Legalize Marijuana May Not Be What You Expect
There isn't an official launch date yet for Eaze's drone cannabis delivery service. But you don't have to wait for the marijuana industry to start mass-ordering drones for your next big profit opportunity.
We want Money Morning Members to know about something happening right now. Sources are saying there could be $127 billion in new wealth being created as we speak.
And this is beyond anything Money Morning Executive Editor Bill Patalon could have imagined...
Financial Guru Bill Patalon Just Uncovered Your Next Profit Opportunity