Mark your calendar: Snap Inc. (NYSE: SNAP) will hold its first-ever earnings call on May 10, 2017.
And while it's Snap's first quarterly earnings report, it's also its most important...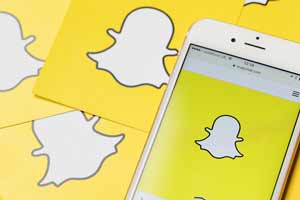 Before the March 2 Snapchat IPO, analysts worried about Snapchat's user growth. According to Recode, Snapchat averaged roughly 15 million daily active users (DAUs) in the first three quarters of 2016.
However, Snapchat only added 5 million DAUs in Q4 2016. In its S-1 document filing, the social media company cited increased competition as the main reason user growth had been "relatively flat."
And if user growth is flat in Q1 2017, the stock price could plummet...
Why the Snapchat Stock Price Could Plummet on May 10
Wall Street isn't as concerned about Snapchat's EPS projections of a loss of $0.21 per share as it is with Snapchat's user growth.
That's because an increase in users will attract more advertisers. And through more advertising revenue, Snapchat could eventually become profitable. Also, retail investors want to see if Snap can grow its user base despite Facebook's massive and growing audience.
Video
The Origin of Snapchat
Facebook Inc. (Nasdaq: FB) reported it had 1.18 billion DAUs as of Q4 2016. In comparison, Snapchat had 161 million DAUs at the end of December 2016. For an advertiser, it would make more sense to advertise on Facebook, which has an audience that's roughly seven times as big as Snapchat's.
And to make current shareholders and Wall Street happy, Barclays believes Snap needs to report between 9 million and 10 million new DAUs. That would meet expectations.
Barclays projects user totals above that range should send the stock higher, and new user totals below that number may send shares of SNAP tumbling.
Investors who have been waiting to invest in Snapchat have been asking us if they should buy shares before the May 10 Snapchat earnings call. The SNAP stock price has dropped 10.66% so far in 2017, which means this could be a good entry point if Snapchat shares can rally.
Of course, there's no guarantee that will happen.
Snapchat said in its IPO filing it doesn't plan to offer forward guidance. That makes it even more difficult to figure out what to expect.
In fact, there's so much uncertainty around what to expect from Snapchat in its earnings report that no one even knows if CEO Evan Spiegel will be there for the earnings call.
Trending: The Top 7 IPOs to Watch in May 2017
However, we uncovered a safer way to profit from Snapchat's first earnings report, no matter what happens on May 10.  
Money Morning Director of Tech & Venture Capital Michael A. Robinson has a strategy that doesn't involve directly owning the social media stock, but still lets you profit from it.
Here's how it works: If Snapchat climbs after earnings, you can profit. If it falls, your risk is limited and you could still make a profit.
This is the opportunity Robinson has uncovered...
The Best Way to Profit from Snapchat Stock
[mmpazkzone name="end-story-hostage" network="9794" site="307044" id="138536" type="4"]
Through the First Trust U.S. Equity Opportunities ETF Fund (NYSE Arca: FPX), investors can own shares of Snapchat without owning the stock directly.
FPX is an ETF, but retail investors can buy and sell it just like a stock.
According to FTPortfolios.com, here's how it chooses what to include in its holdings:
The IPOX®-100 U.S. Index is a modified value-weighted price index measuring the performance of the top 100 companies ranked quarterly by market capitalization in the IPOX®Global Composite Index.
The index utilizes a 10% capping on all constituents and includes the 100 largest, typically the best-performing and most liquid U.S. public offerings ("IPOs") in the IPOX®Global Composite Index.
The index is a rules-based, value-weighted index measuring the average performance of U.S. IPOs during the first 1,000 trading days. Index constituents are selected based on quantitative initial screens.
The index is reconstituted and adjusted quarterly.
It currently holds IPOs that rolled out over the last several years, including Match Group Inc. (Nasdaq: MTCH) and Blue Buffalo Pet Products Inc. (Nasdaq: BUFF).
But it balances risk by holding well-known companies like AbbVie Inc. (NYSE: ABBV).
For example, if FPX just owned shares of SNAP, FPX would be down 11.03% so far in 2017. However, the ABBV stock price is up 6.39% so far in 2017, and it accounts for a much larger position than Snapchat.
AbbVie is First Trust's largest holding, consisting of 9.83% of its portfolio. In comparison, Snapchat only accounts for 1.39% of FPX's holdings.
So if Snapchat beats expectations on March 10, it will help FPX climb. And if it doesn't, your downside is limited because SNAP represents a smaller portion of the portfolio. In fact, if FPX's larger holdings climb on May 10 and Snap falls, you could still make a profit.
And for investors looking to outperform the market with safe investments, FPX is beating the Dow right now.
This year, FPX has climbed 8.43%. In comparison, the Dow is up only 5.9% in the same time.
Urgent: 7,524 millionaires are legally manipulating penny stocks, driving up the prices. By getting in behind these trades, it's like you're making their shares your shares for huge gain potential in a matter of weeks. Read more...
Follow Money Morning on Facebook and Twitter.