While profits are up, Money Morning Global Energy Strategist Dr. Kent Moors says big oil stocks are not the place to be investing in 2017. That's especially true for Exxon stock. Instead, he favors smaller, domestic oil stocks.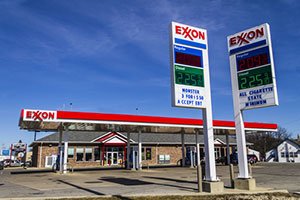 On April 28, Exxon Mobil Corp. (NYSE: XOM) reported its best quarter since 2015, more than doubling profit from the same period last year. The company also reported increases in its cash hoard, which is a good sign for currently debt-laden oil companies.
Even with improved fundamentals, Dr. Moors still does not think big oil stocks will be profitable for investors this year. This should be true even though these stocks pay big dividends, which Moors says is the one thing they are really good at.
That is borne out in the market. Exxon stock has been underperforming the S&P 500 since June of last year and dropped from roughly $95 per share to its recent trading near $82. The S&P 500, in contrast, has been rallying nearly uninterrupted over that same span and pushed farther into record-high territory.
You see, this one simple analysis tells us that money is not flowing into Exxon and other big oil stocks. Buying stocks that are clearly in decline is not a winning strategy.
What is more important is the Exxon stock price fell even as oil prices rebounded from 10-year lows set last year. Clearly, there are other factors at play, and our research suggests that Exxon and others are bleeding money from very large, unprofitable projects.
And these projects won't pay off for years...
While Exxon Stock Drops, Shale Oil Becomes Profitable
Early in 2016, when the price for a barrel of light, sweet crude fell below $30 per barrel, it became unprofitable for companies to extract the oil from shale deposits. Before that time, shale oil was powering the next big wave in the energy industry and helped propel the United States into the forefront of global energy production.
Now that oil prices are back into the $40-$60 range, developing and producing shale oil has recovered. Surviving companies are leaner and meaner. Many have even started to rehire some of the thousands of workers laid off during the downturn.
Indeed, Wall Street is pouring money back into the shale sector, expecting profits even at $50 per barrel. Oil traded at $48-$49 per barrel this week.
Energy Breakthrough: One gallon of this new "crystal fuel" could get you from New York to L.A. and back... seven times! Read more...
The private-equity industry raised an estimated $19.8 billion in funds for energy investment in the first quarter of this year, or about three times as much as the same period last year. That's according to data from Oilprice.com. This suggests a more aggressive approach from private equity in shale drilling and rising expectations that oil prices will hold steady or even increase.
Even Exxon Mobil realized that shale is the place to be, and it bought $6.6 billion worth of shale oil acreage in the Texas Permian Basin, one of the top shale oil-producing regions in the world.
But big oil is too late. Smaller companies have already gotten a good head start.
Our 2 Favorite Oil Stocks to Buy Instead of Exxon