In surprising news, marijuana in West Virginia will soon become legal to qualifying medical patients.
Video
West Virginia Legalizes Medical Marijuana
On April 19, Gov. Jim Justice signed Senate Bill 386 into law, which will allow seriously ill patients to obtain medical marijuana in West Virginia. The Bureau of Public Health will begin issuing medical marijuana patient ID cards on July 1, 2019.
And in August 2016, a new study from the West Virginia Center on Budget and Policy found marijuana legalization in West Virginia could be a boon for the state's economy…
Legalizing Marijuana in West Virginia Will Bring Millions in Revenue
Lawmakers began taking marijuana legalization in West Virginia seriously in August 2016 thanks to a study from the West Virginia Center on Budget and Policy.
The study projected legalizing marijuana in West Virginia could bring the state as much as $45 million in tax revenue annually at a 25% tax rate. At a 15% tax rate, the state could still generate $26.8 million in tax revenue.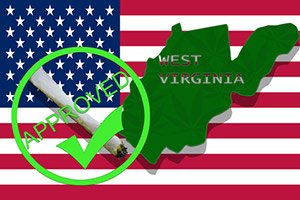 The West Virginia Center on Budget and Policy also suggested legalizing marijuana could reduce criminal justice costs, increase tourism, and offer pain-relief treatments.
The West Virginia Senate passed SB 386 on March 29 in a 28-6 vote. It was then passed by the House on April 4 with 76-24 vote.
However, while the new law will legalize medical marijuana in West Virginia, it is stricter than most people would like…
The New West Virginia Marijuana Law
According to West Virginia's new legal marijuana bill, cannabis is prohibited in its natural, flower form.
Plant growers, processors, and dispensaries will only be provided licenses for cannabis oils, pills, topical gels, liquids, and a form that can be vaporized.
And to qualify for medical marijuana, a patient in West Virginia would need to have one of 16 medical conditions. Some of those conditions include cancer, seizures, post-traumatic stress disorder, and AIDS.
Jesse Johnson of NORML (a national group fighting for marijuana reform) told the Charleston Gazette-Mail on April 19 he was excited by the bill's passing. But he thinks there is room for improvement, mentioning the list of qualifying conditions does not include depression or anxiety.
Also, some marijuana activists aren't happy the bill will not be activated until 2019.
Trending: First Marijuana ETF Hits the Market-Should You Buy?
This bill may not appease all marijuana enthusiasts. But it's a historic moment in marijuana legalization, with more than half the country now having some form of legalized marijuana.
And as more states legalize cannabis, our readers have been asking us how to invest in medical marijuana stocks and recreational pot stocks.
That's why Money Morning Director of Technology & Venture Capital Research Michael A. Robinson has created the "bible of weed investing" for Money Morning Members.
Cannabis Guru Michael Robinson Shares His Favorite Cannabis Stocks