(Kitco News) – Global equity markets were mostly firmer overnight, on upbeat corporate earnings reports. European shares were lifted on better Euro zone economic data released recently. U.S. stock indexes are pointed toward firmer openings when the New York day session begins.
Gold prices are lower and hit a six-week low overnight amid the ongoing better risk appetite in the world marketplace that is keeping investors away from the safe-haven metal.
In overnight news, the Euro zone's Markit composite purchasing managers' index (PMI) came in at 56.8 in April from 56.4 in March, hitting a six-year high. Euro zone retails sales data released Thursday was also better than forecast.
Traders are awaiting Friday morning's U.S. jobs report for April from the Labor Department. The key non-farm payrolls number is forecast to come in at up around 190,000.
The marketplace is also awaiting this weekend's French presidential elections. A surprise win by the right-wing candidate Marine Le Pen would likely roil many stock and financial markets. However, centrist candidate Emmanuel Macron fared pretty well in a televised debate Wednesday evening, which assuaged European market watchers. Macron is heavily favored to win Sunday's election.
The key outside markets on Thursday morning see the U.S. dollar index trading slightly lower. The greenback bears still have the slight overall near-term technical advantage. Meantime, Nymex crude oil prices are weaker and the bears have the near-term technical advantage as prices hit a 5.5-month low earlier this week.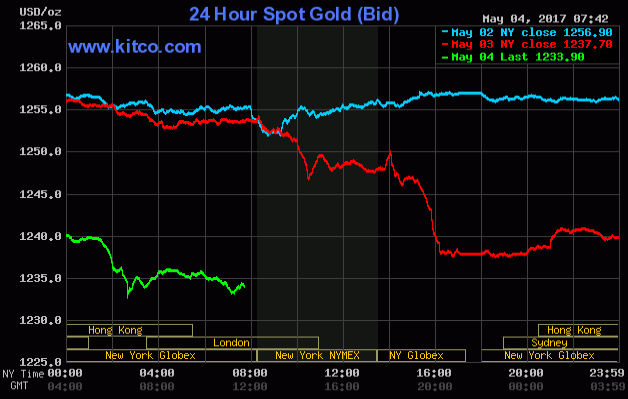 U.S. economic data due for release Thursday includes the weekly jobless claims report, the Challenger job cuts report, preliminary productivity and costs for the first quarter, the international trade report, manufacturers' shipments and inventories, the global services PMI and monthly retail chain store sales.
By Jim Wyckoff, contributing to Kitco News; jwyckoff@kitco.com
Follow Jim Wyckoff @jimwyckoff for breaking news.