Since both commodities are priced in U.S. dollars, there's a common myth among investors that the oil and gold prices relationship is defined by lockstep price movements.
When the U.S. dollar rises in value, most dollar-denominated commodities like oil and gold become more expensive. That means a gaining dollar can pull oil and gold prices lower because those commodities are more expensive to foreign currency users.
This is why market logic often asserts that oil prices and gold prices move in tandem with one another. If one goes down, the other also goes down – and vice versa.
However, as this chart below will show you, oil and gold don't always move in the same direction despite both being priced in dollars…
This Is When the Oil and Gold Prices Relationship Becomes Undone
You see, oil and gold prices typically untether during economic recessions…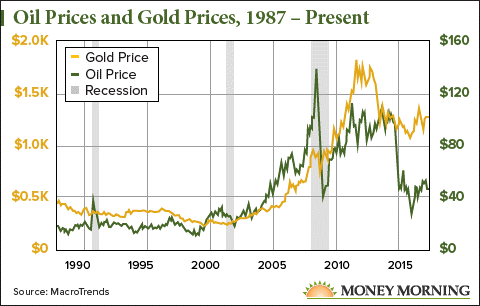 The three recessions over the last 30 years were the early 1990s recession, the dot-com bubble of the early 2000s, and the 2007-2008 financial crisis. During these periods of economic decline, oil prices sharply declined while gold prices either remained steady or climbed in value.
Trending: How to Buy Physical Gold in 2017 – Free Report
For example, the most recent financial crisis lasted from the Dow Jones' peak on Oct. 12, 2007, to its bottom on March 6, 2009. Over that period, the WTI crude oil price cratered 45.6% from $83.69 to $45.52. On the other hand, the gold price soared 25.9% from $748.70 to $942.70.
The differing movement between oil and gold prices during these economic downturns comes from gold's nature as a safe-haven investment. Safe havens typically maintain or increase in value when the stock market nosedives. That's because investors buy them to hedge against losses they may incur from the stocks in their portfolio.
On the other hand, oil prices can plunge when the economy crashes. One big reason for this is recessions always reduce consumer spending, which causes less gasoline consumption since less people can afford to travel. As a result, oil demand falls since oil is used in the refining process to produce gasoline. That ultimately causes low oil prices.
While the oil and gold prices relationship changes during harsh economic times, two of our Money Morning experts expect both to move in the same direction this year – higher. In fact, both recently released their bullish gold and oil price predictions for 2017.
Here's how high you can expect these two commodities to climb this year…
Our Predictions for Oil and Gold Prices in 2017