(Kitco News) – Global equity markets were mostly weaker overnight. A feature in the marketplace late this week is the steep drop in crude oil prices. Nymex crude oil futures prices are weaker early Friday morning, but well off the overnight low of $43.76 a barrel, which is a 12.5-month low. Stock and commodity markets are feeling downside pressure late this week as the crude oil market became unhinged. U.S. stock indexes are pointed toward modestly lower openings when the New York day session begins.
Fears of slowing economic growth in China, the world's second-largest economy and world's largest raw commodity importer, have also hit the raw commodity sector this week.
Gold prices are moderately higher in pre-U.S. trading, on some short covering and bargain hunting after prices hit a six-week low on Thursday.
Traders are awaiting Friday morning's U.S. jobs report for April from the Labor Department. The key non-farm payrolls number is forecast to come in at up around 190,000. Trading could become more active and volatile if the jobs report is a miss from forecasts.
Traders and investors are also awaiting this weekend's French presidential elections. A surprise win by the right-wing candidate Marine Le Pen would likely roil many stock and financial markets. However, centrist candidate Emmanuel Macron fared pretty well in a televised debate Wednesday, which assuaged European market watchers. Macron is heavily favored to win Sunday's election. However, big elections on the world stage have not turned out as expected over the past many months.
The other key outside markets early Friday morning sees the U.S. dollar index trading slightly higher. The greenback bears still have the slight overall near-term technical advantage.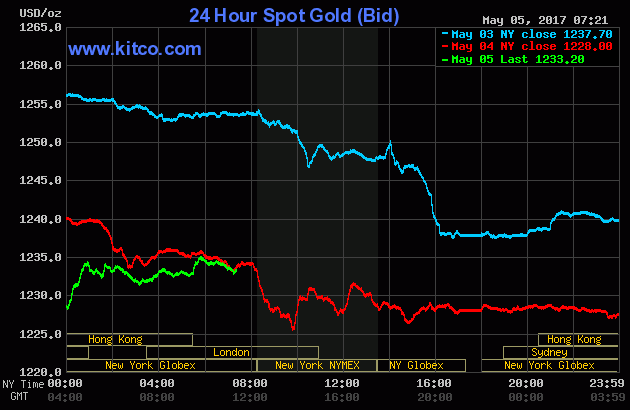 Other U.S. economic data due for release Friday includes the consumer installment credit report.
By Jim Wyckoff, contributing to Kitco News; jwyckoff@kitco.com
Follow Jim Wyckoff @jimwyckoff for beaking news