The biggest silver price news today (Friday, May 5) is the metal's continued decline to its lowest level of 2017.
The price of silver today is down 0.3% and trading at $16.25. According to FactSet data, that's the lowest level for an active silver futures contract since prices closed at $15.99 on Dec. 30, 2016. Today's drop comes after two consecutive sessions of fresh 2017 lows.
Here's why the white metal is in free fall this week - and why it represents one of the best buying opportunities of 2017...
The Big Silver Price News Dragging Down the Metal This Week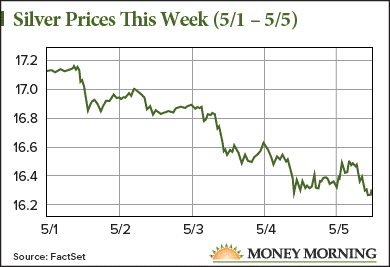 Silver prices are on track for a big 5.9% loss this week thanks to the Fed's statements after its May FOMC meeting.
At the end of its two-day meeting on Wednesday, the U.S. Federal Reserve announced it would leave interest rates unchanged at the current 0.75% to 1% range. The bank surprised analysts when it referred to the weak economic growth last quarter as "transitory," a strange choice of words that was considered dismissive. After all, Q1 GDP growth came in at only 0.7% -- the worst in three years.
Trending: Learn How to Invest in Silver Today with This Free Guide
These statements show the Fed still intends to hike rates multiple times this year. Safe-haven metals like silver responded on Wednesday by falling to record lows. The silver price dropped 1.7% to settle at $16.55 - the lowest since closing at the same price on Jan. 4.
The possibility of additional rate hikes also boosted the dollar to its highest level since April 21, which was the biggest weight on the price of silver. A rising dollar makes dollar-denominated commodities like silver more expensive to users of other currencies. That ultimately reduces demand and drives prices lower.
But this week's sharp drop is just a short-term reaction to the rate hike chatter. In fact, it's a common misconception that silver prices can't rally in high interest rate environments like the one we're entering now. After all, rising interest rates have a bullish effect on the dollar, which is fundamentally bearish for silver.
However, we've just uncovered proof that shows higher rates don't always suppress the silver market. On the contrary, high interest rates can actually boost silver prices over the long term, making today a great time to buy silver since it currently trades at a discount.
Here's why silver won't be weighed down by interest rates over the long term...
[CHART] Silver Prices Could Still Rally 35.4% in 2017 Despite High Rates