On cue, the price of silver fell sharply last week in line with what we expected.
We've been saying in recent weeks that silver has remained overbought, with overly enthusiastic traders holding a record number of long silver futures contracts. This was identified as a clear contrarian signal that indicated a silver price pullback was imminent.
Well, gold's own retreat helped boost the selling in silver last week. The white metal dropped 5.8% to close Friday, May 5, at $16.27 – the lowest level of 2017.
What's more, May and June tend to be seasonally weak months for silver. Data from FactSet shows that the iShares Silver Trust ETF (NYSE Arca: SLV) – which closely tracks the price of silver – has fallen an average of 2.2% and 1.6% in May and June, respectively, over the last 10 years. Those have been the worst monthly averages of the year over that period.
And while that doesn't alleviate the damage done to silver investors over this two-month period, it does show that this kind of selling behavior is normal.
Now, silver prices have hit a few key technical levels that may suggest what comes next. That's why I'm going to share with you my short-term and long-term targets for the silver price in 2017.
First, let's look closely at what caused silver to plunge last week…
Price of Silver Falls 5.8% Last Week to Lowest Level of 2017
After closing at $17.26 on Friday, April 28, the silver price opened lower on Monday, May 1, at $17.12. It eventually fell below the important $17 mark on the back of growing strength in the U.S. dollar. Silver closed the day at $16.82 for a 2.5% loss.
Trending: Your Free Guide to Buying Gold and Silver in 2017
Tuesday marked the start of the two-day May FOMC meeting. Despite the Fed's typically big impact on dollar-denominated commodities like silver, the metal traded flat throughout most of the day. Silver prices closed right at $16.82, where they settled the day before.
But the silver price took a huge drop on Wednesday after the Fed announced it expects two more rate hikes in 2017. This caused silver to fall to $16.52 by midday and eventually settle at $16.45 for a 2.2% loss.
The announcement also boosted the U.S. Dollar Index (DXY) on Wednesday, which you can see in this chart below…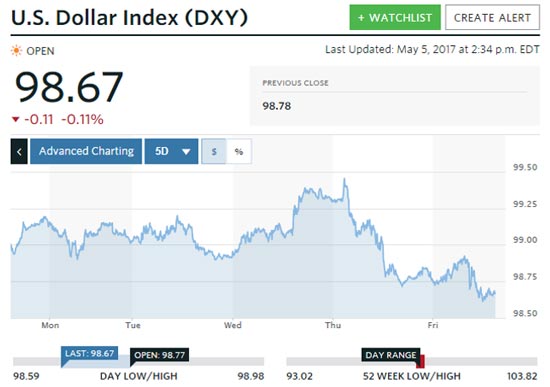 But the DXY reversed course on Thursday, reaching new lows for the week. That still wasn't enough to bolster the silver price, which fell 0.9% to close out the session at $16.30.
On Friday, May 5, silver opened at $16.32 for a show of morning strength. However, those gains didn't hold throughout the day. Prices fell to a year-to-date low of $16.27 by the close, marking a 0.2% loss on the day and 5.8% decline on the week.
Last week's dramatic loss showed the weakness in silver was just getting started. Unfortunately, I see the weakness continuing over the short term.
However, my longer-term outlook is much more bullish. In fact, I expect silver prices to post a huge double-digit rebound by the end of the year.
Here are my targets for the metal in 2017…
My Short-Term and Long-Term Outlook for the Silver Price in 2017
Join the conversation. Click here to jump to comments…
About the Author
Peter Krauth is the Resource Specialist for Money Map Press and has contributed some of the most popular and highly regarded investing articles on Money Morning. Peter is headquartered in resource-rich Canada, but he travels around the world to dig up the very best profit opportunity, whether it's in gold, silver, oil, coal, or even potash.