The "Hindenburg Omen" is a complex stock market indicator that's predicted every stock market crash since 1987. And the Hindenburg Omen just signaled again last week (May 4).
The indicator is named after the Hindenburg disaster, when the ill-fated German dirigible caught fire and crashed in New Jersey in 1937. The Hindenburg Omen is a series of technical stock market indicators that have aligned just before historical stock market crashes going back to 1987.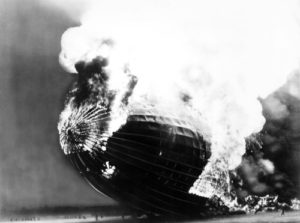 Now that the Hindenburg Omen is signaling again, traders are wondering if another stock market crash is coming.
Here's the exact definition of the Hindenburg Omen and why investors should always be prepared for a potential stock market crash…
What Causes a Hindenburg Omen?
The Hindenburg Omen occurs when these four events happen on the same trading day. According to Investopedia, the first two events are:
At least 2.2% of all stocks on the New York Stock Exchange must hit their 52-week high.
At least 2.2% of all stocks on the New York Stock Exchange must hit their 52-week low.
CNBC adds that two more events must also happen on the same trading day:
The S&P 500 must be trading above its 50-day moving average.
The "McClellan Oscillator" must be negative for the day. The McClellan Oscillator is a complicated technical indicator used by financial analysts, and a negative reading essentially means money is leaving the market.
In other words, some stocks are being bid up to new highs as other stocks are bid down to new lows. At the same time, traders are pulling money out of the market even as the index is trading above its recent average.
Don't Miss: Our Essential Guide to Buying Gold and Silver
While these metrics are specific, they are an indication that traders are very uncertain about the future direction of the stock market. A high amount of uncertainty among traders could signal a market correction is coming.
But not everyone buys the power of the Hindenburg Omen. While the indicator has triggered before every stock market crash since 1987, the market hasn't crashed every time the Hindenburg Omen hits. In fact, The Wall Street Journal says a significant downturn has followed the indicator only about 25% of the time.
Jim Miekka, the mathematician who developed Hindenburg Omen, has argued it's only meant to warn investors.
"It's sort of like a funnel cloud," Miekka told the WSJ in 2010. "It doesn't mean it's going to crash, but it's a high probability. You don't get a tornado without a funnel cloud."
Investors are right to be skeptical of an overly specific predictor of market events. It's possible to retroactively connect unrelated data to specific historical events, or it's even possible Miekka's indicator is simply a coincidence.
But we can't deny that the Hindenburg Omen has shown up before every stock market crash since 1987. And this isn't the only reason investors should be prepared in the event of a stock market crash this year…
Why Investors Should Prepare for a Market Crash in 2017