JPMorgan Chase & Co. (NYSE: JPM) CEO Jamie Dimon raised eyebrows last week during an interview with Business Insider, where he discussed a variety of topics like education, the economy, and President Trump.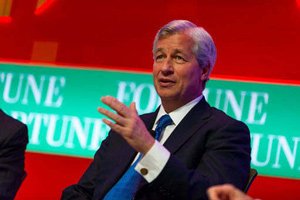 But perhaps the most shocking portion of the interview was when Dimon began to discuss America's crumbling infrastructure system.
The business executive called America's infrastructure system "bureaucratic, stifling, and corrupt."
Here's what else he had to say...
Why U.S. Infrastructure Is Corrupt, According to Dimon
According to Dimon, regulations and permit processes are keeping U.S. infrastructure from making progress. "We've become this bureaucratic, stifling environment," Dimon said. "I'm not talking about violating environmental things - I'm talking about building a bridge, getting things going, and getting people to work together."
"What happened to the good ol' can-do America? Where is 'we get it done, we work together?'"
And he's not the first one to bring this issue to light...
In fact, inefficient regulations in America were a cornerstone of President Trump's campaign -- and one of his first fulfilled promises as POTUS.
On Feb. 24, Trump signed an executive order aimed at scaling back regulations that are deemed burdensome to the U.S. economy.
"Excessive regulation is killing jobs, driving companies out of our country like never before," Trump said before signing the order. "Every regulation should have to pass a simple test; does it make life better or safer for American workers or consumers?"
Trump also said the United States does not need "75% of the repetitive, horrible regulations that hurt companies, hurt jobs."
And Dimon seems to agree.
"It takes 10 years to get all the permits to build a bridge today," said Dimon. "Ten years?! What happened to the good ol' can-do America? Where is 'we get it done, we work together?'"
America's Infrastructure Is Long Overdue for an Overhaul
"We simply do not need Jurassic Park-like infrastructure in the U.S.," said Money Morning Chief Investment Strategist Keith Fitz-Gerald to readers on April 12.
Keith used Amtrak - America's long-distance travel rail service - as an example of infrastructure failure at its finest.
You see, Amtrak's system is outdated, inefficient, and unsafe.
Special Report: Cannabis Is the Gold Rush of the 21st Century - 30 Stocks to Invest in Now
There have been over 2,000 accidents since 2000 - resulting in at least 224 deaths and 2,228 injuries, according to RT America.
According to Keith, it's time for America to step up and do something about its run-down infrastructure. "This nation desperately needs high-speed rail, not more tradition unimpeded by progress," said Keith.
And a complete overhaul may be closer than we think...
Could This Man Be the Answer to America's Infrastructure Crisis?
Tesla Inc.'s (Nasdaq: TSLA) Elon Musk could be the answer America is looking for.
"The markets love an underdog with vision, and I can't think of an executive today with more vision than Elon Musk," said Keith last year.
You see, Musk has been trying to improve U.S. infrastructure as far back as 2013, when he revealed a concept for high-speed transportation, dubbed the "Hyperloop," as a way to cut long-distance travel times and help reduce congestion in many cities.
And just last week, Musk unveiled his latest project - one that could completely revolutionize modern infrastructure as we know it.
Here's what Musk has planned...
Follow Money Morning on Twitter @moneymorning, Facebook, and LinkedIn.
[mmpazkzone name="end-story-hostage" network="9794" site="307044" id="138536" type="4"]