There's no doubt that SpaceX shares will be expensive once SpaceX stock finally hits the market. Although CEO Elon Musk hasn't offered a timeline on an initial public offering (IPO), SpaceX's revolutionary spacecraft and $12 billion valuation ensure it'll be one of the largest IPOs of the decade.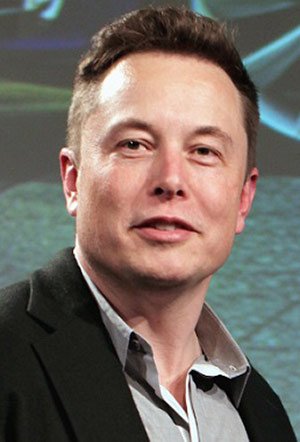 You see, the company's goals expand beyond just launching rockets. One of Musk's most high-profile goals is to start sending people to live on Mars by 2022. That's the nature of SpaceX – it strives to achieve this goal mostly because it's considered impossible.
Those goals also ensure there will be huge interest in SpaceX shares when they debut on the market.
"We have goals that are absurdly ambitious by any reasonable standard, but we're going to make them happen," says Musk on the SpaceX website.
Plus, the firm just disclosed yet another insanely ambitious project that could dramatically boost the valuation of SpaceX ahead of an IPO.
This new project – combined with other historic projects, like becoming the first company to successfully launch and land a reusable rocket, ensures the firm will make an incredible splash when it hits the stock market.
Here's more on the new project that adds to SpaceX's portfolio of revolutionary ideas…
SpaceX's New Project Makes the Big Move into the Broadband Sector
On Wednesday, May 3, SpaceX Vice President Patricia Cooper outlined a plan before the U.S. Senate to launch a network of Internet broadband satellites that will orbit Earth. About 4,425 satellites could be launched in phases through 2024, with the first starting in 2019 and tests starting later this year.
The primary goal is to provide fast Internet access across the globe. Cooper also mentioned the project would relieve people of the hassle of physically installing Internet back on Earth.
"In other words, the common challenges associated with siting, digging trenches, laying fiber, and dealing with property rights are materially alleviated through a space-based broadband network," Cooper told the Senate committee.
Trending: How to Make Money from the Top Video-Streaming Services
She said they would be launched via SpaceX's Falcon 9 rockets, which have been the firm's bread and butter in recent years. Most of SpaceX's revenue comes from massive contracts with agencies like NASA that use the Falcon 9 to send payloads of supplies. For instance, NASA and SpaceX inked a $2.6 billion deal in 2014 that obligated SpaceX to launch supplies to the International Space Station (ISS) via Falcon 9 rockets.
This more ambitious use of the Falcon 9 model will certainly attract more funding leading up to the SpaceX IPO. The company has already accrued $1.1 billion over seven funding rounds. Its stunning 3,233% growth from $30 million in Series D funding to $1 billion in Series E crushed the growth of higher-valued companies over the same rounds. Flipkart, for example, only saw funding increase by 140% from $150 million to $360 million over the same rounds.
As you can see, SpaceX ranks as the ninth highest-valued private company in the world…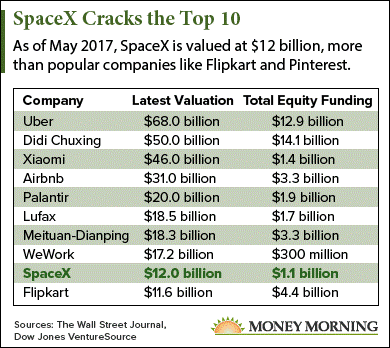 The $12 billion SpaceX valuation – as well as the firm's impressive funding growth – ensure the SpaceX IPO will be a huge market event.
That leaves the most important question in the wake of the recent SpaceX news…
Could SpaceX Shares Hit the Market This Year?