(Kitco News) – Global stock markets were mixed but mostly firmer overnight. U.S. stock indexes are pointed toward slightly lower openings when the New York day session begins.
The geopolitical front was quiet again this week. There were also no major, markets-moving data points this week. Look for fundamental inputs for markets to be on the upswing soon.
Gold prices are posting moderate gains in pre-U.S. trading. The gold market bulls have managed to stabilize prices late this week, but still have work to do to negate the near-term price downtrend.
In overnight news, Euro zone industrial output in March was reported down 0.1% from February and up 1.9% year-on-year. Hong Kong's first-quarter GDP was reported up 4.3%, year-on-year, which beat market expectations.
The key outside markets on Friday morning see the U.S. dollar index near steady. The greenback bulls have had a pretty good week, but the bears still have the slight overall near-term technical advantage. Meantime, Nymex crude oil prices are also near steady in pre-U.S. trading.
Oil prices have made a good rebound this week to suggest the market has put in a near-term bottom. That would be good news for the raw commodity markets, including the precious metals.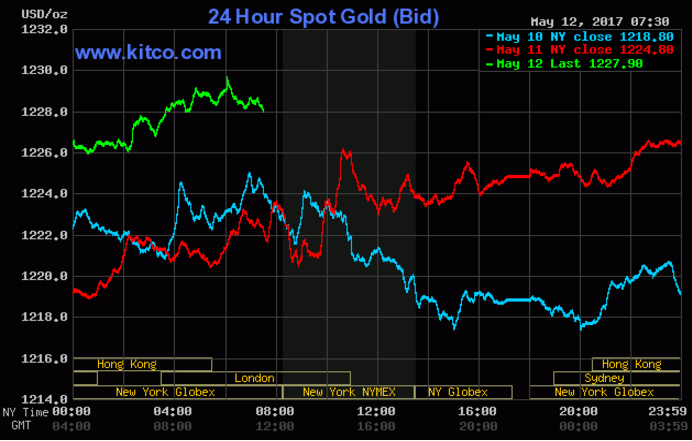 U.S. economic data due for release Friday includes real earnings, the consumer price index, retail sales, the University of Michigan consumer sentiment survey, and manufacturing and trade inventories.
By Jim Wyckoff, contributing to Kitco News; jwyckoff@kitco.com
Follow Jim Wyckoff @jimwyckoff for breaking news.