The "Trump Rally" has sent the Dow soaring 14% since Election Day, but the market could fall just as quickly, and a market crash in 2017 is a serious possibility.
President Trump's proposals to boost infrastructure spending, lower taxes, and cut regulations to boost economic growth have all made investors extremely bullish in 2017.
"Everyone is looking to Trump...as the stock market's chief motivator," CNBC reported as recently as March.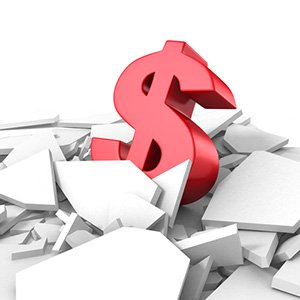 Stocks have soared to record-breaking highs, like the Nasdaq hitting its all-time high close of 6,128.51 just last week (May 10). But as we'll show you in just a bit, stocks are now overvalued and ripe for a stock market crash. All it will take is a single destabilizing event to trigger a market crash.
That event could be the derailing of President Trump's economic agenda. Here's why overvalued stocks are dangerous and how a 2017 stock market crash could happen...
A Stock Market Bubble Could Be Forming
Stock prices might be breaking records, but they are currently overvalued. And the right event could pop a stock market bubble.
The critical reason behind stock market crashes from the 1920s to now has been an overvalued market. When stocks overheat and trade above their fundamental value, they will eventually come back to earth.
That sort of drop kicks off a stock market crash.
The stock market crashed in the famous crash of 1929 because of overvaluation. During most of the 1920s, the stock market roared. The market rose 300% between 1923 and 1929.
But that growth wasn't all because of the economy. Traders began to believe stocks would only go higher, and this led to people taking gambles on stocks instead of investing their money wisely. That sort of speculation pushed stock prices even higher and led to even more speculation.
On Black Tuesday - Sept. 29, 1929 - the optimism around stock prices came to an abrupt end. Stocks crashed that Tuesday as investors panicked. Once stock prices fell, the people making speculative bets on stocks couldn't afford to lose and had to sell immediately. The sell-off caused others to sell stocks in order to get the best price they could. By 1932, the Dow lost 86% of its value.
Don't Miss: Seven Ways to Tell If Your Gold Is Real
Today, stock prices are similarly overvalued, and they've been pushed to these heights as optimism over the Trump Rally grows.
One of the best measures of stock market value is the Shiller price/earnings (P/E) ratio. The Shiller P/E ratio measures the ratio of stock prices to the companies' earnings and controls for the company's historical P/E performance. This weeds out fluctuations due to the business cycle and gives investors a more accurate measure of stock value.
The Shiller P/E ratio is currently 29.6. That's not only 76% higher than its historical average, it's even higher than before the 2008 stock market crash, when it reached 27.4.
Video
This Political Fight Is Threatening the Trump Rally
But it's not surprising stock prices have ballooned to this level. Low interest rates have made borrowing money easy and cheap. During the 2008 financial crisis, the Fed lowered interest rates from over 5% to 0.25%. Since then, it's only raised rates three times.
Low interest rates were meant to help businesses by making it cheap and easy to borrow money. Instead, publicly traded companies have used that cheap money to buy back shares of their own stocks.
Between 2008 and 2016, public companies repurchased $2.1 trillion of their own stock. To do this, they've borrowed $1.9 trillion over the same period. That's helped push the Dow up over 200% since stocks hit their lowest point after the 2008 crash in March 2009.
But that period of low interest rates is ending. The Fed is set to raise interest rates two more times this year, and interest rates will rise above 1% for the first time since 2008.
The era of cheap borrowing is ending just as the Trump Rally has sent stocks surging even higher in the six months since the election. That means if stocks fall again, low interest rates won't help.
And the Trump agenda is in trouble...
Will the Stock Market Crash If Trump's Plan Fails?
President Trump has promised the biggest tax cut in history, along with a trillion-dollar infrastructure spending bill. Congress has yet to take up these measures, but if Congress fails to pass these bills, then the optimism that fueled the Trump Rally could end. That sets the stage for a stock market crash in 2017.
The president's first major policy goal has been repealing and replacing the Affordable Care Act, or Obamacare. While the plan is still in the works as the Senate works on its version, it hasn't been without setbacks.
Trending: Why One of Trump's Boldest Economic Promises Will Be Delayed Till 2018
On March 25, House Republicans pulled their healthcare bill after they were unable to secure enough votes for it to pass. After weeks of debate, Republicans were able to get an amended bill passed through the House on May 4.
But the Senate could be more difficult as Democrats can use the filibuster to stop the bill from going to the president's desk. This is important for investors because a setback on the healthcare bill could end the optimism behind the Trump Rally.
And it would be even worse for the stock market if President Trump's tax plan fails in Congress. That would derail one of the main reasons behind the Trump Rally and could cause a stock market crash in 2017.
But smart investors don't need to panic, they simply need to be prepared for a stock market crash. That's why we've put together a stock market crash protection plan that will help you keep your money safe during a market crash in 2017...
How to Protect Your Money During a Stock Market Crash in 2017