This list shows the top 10 marijuana penny stocks by percentage gain for the month of May so far, according to data retrieved from FactSet…
Marijuana Penny Stock
Current Share Price

May 2017 Gain

(as of 5/16)

CLS Holdings USA Inc. (OTCMKTS: CLSH)
$0.14
+28.7%
GeneSYS ID Inc. (OTCMKTS: GNID)
$0.02
+25.6%
Encompass Compliance Corp. (OTCMKTS: ENCC)
$0.02
+25%
Cafe Serendipity Holdings Inc. (OTCMKTS: FOFU)
$0.04
+24.2%
Immune Therapeutics Inc. (OTCMKTS: IMUN)
$0.08
+23.8%
Tumbleweed Holdings Inc. (OTCMKTS: DCDC)
$0.02
+21.9%
Canadian Cannabis Corp. (OTCMKTS: CCAN)
$0.46
+21.4%
Nemus Bioscience Inc. (OTCMKTS: NMUS)
$0.31
+21.1%
OXIS International Inc. (OTCMKTS: OXIS)
$0.02
+19.4%
THC Therapeutics Inc. (OTCMKTS: THCT)
$0.45
+15.5%
While these are the top-performing marijuana penny stocks of May so far, these are not recommendations. These stocks are much too volatile for retail investors, with most trading under $0.10 a share.
Additionally, since cannabis is still illegal under federal U.S. law, the majority of marijuana stocks aren't listed on federally regulated exchanges like the Nasdaq or NYSE. That's why they trade over the counter (OTC) based highly on speculation and can cost mere pennies.
Because these companies trade over the counter, they are not required to report their finances to the U.S. Securities and Exchange Commission (SEC) each quarter. That's a huge red flag for us because we always advise our readers to look at the finances to make sure a company isn't fraudulent or trying to scam you.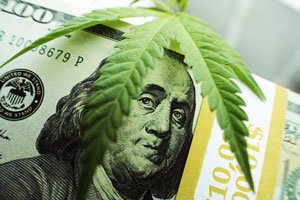 Still, many investors are clearly pouring money into the marijuana sector right now. Despite many of those top cannabis stocks costing less than $0.10 per share, they've still posted strong double-digit gains so far this month. The biggest winner of May 2017 is CLS Holdings USA Inc., which produces concentrated cannabinoid products like edibles and oils.
Those returns show how penny stocks can hand investors a generous profit in just half a month.
Trending: The Top 10 Oil Penny Stocks This Month
When it comes to cannabis penny stocks, finding the safest and most profitable companies is one of Money Morning Director Technology & Venture Capital Research Michael A. Robinson's specialties. In fact, he just released a time-sensitive briefing that shows how five marijuana stocks could skyrocket thanks to Canada's recent initiative to legalize cannabis on July 1, 2018.
Here's how you can receive Michael's extremely urgent report before these five stocks take off…
What You Need to Know About These 5 Marijuana Stocks