Investing in stocks with dividends is a powerful strategy to both grow and protect portfolios of all sizes.
You see, dividend payouts can offset losses when stock prices dip, which provides portfolio protection. When the markets are heading higher, strong dividend payouts can help you continually outperform the markets.
And to help your investing capital grow, shareholders can reinvest dividends. This is referred to as a DRIP (dividend reinvestment program or dividend reinvestment plan).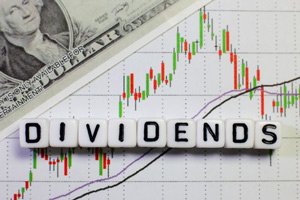 That's a powerful way to increase long-term profit potential…
For example, Johnson & Johnson (NYSE: JNJ) first paid dividends in 1972, according to the company's website. However, it only paid out $0.009 for the whole year.
But by 1995, JNJ was paying over $0.06 per share per quarter. A $10,000 investment back on Jan. 1, 1995, would now be worth $118,134 through a DRIP, according to Dividend Channel.
In comparison, a $10,000 investment in JNJ during that time that didn't use a DRIP would be worth $90,504.
That's a staggering difference of $27,630.
Of course, you can't throw money at just any dividend stock and expect positive returns.
Just like with any investment, due diligence is required to find the best stocks. That's why we rounded up four of the best stocks with dividends from four of our financial gurus.
Must Read: Seven Ways to Tell If Your Gold Is Real
Each stock operates in a unique market, which provides diversity for any portfolio. And they all have market-beating profit potential on top of their steady dividend payments.
Here are the four stocks with dividends to grow your wealth…
Grow Your Wealth with These Four Stocks with Dividends