Footage from North Korea's missile launch on Sunday was blasted across the country's state-run national television sites.
This new, unseen material fell by the wayside with American mainstream media outlets:
This latest launch in Pyongyang exhibited a "level of performance never before seen from a North Korean missile," aerospace engineering specialist John Schilling wrote on his defense blog 38 North Sunday evening.
You see, Kim Jong Un's latest missile proved that North Korea now has the capacity to annihilate its U.S.-allied neighbors.
This is exactly the kind of escalation Money Morning Executive Editor and "Asian Arms Race" investing expert Bill Patalon has been warning readers about…
North Korea's Missile Launch Proved It Could Soon Hit Tokyo and Seoul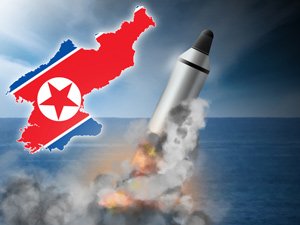 Patalon says that Pyongyang's missiles have the ability to hit Japan and South Korea – the country's nearby "enemies."
"But they're not looking to actually land on those shores just yet because that would lead to a definite physical rebuttal from the U.S.," Patalon said on Monday in reaction to the Sunday launch. "So, they're perfecting their weapons in the meantime. And showing off."
Specifically, North Korea is boasting its missiles' altitude-reaching capabilities…
Sunday's missile, for example, reached an altitude of 2,111.5 kilometers, Pyongyang's aggregated state news site KCNA reported.
Must See: Trump's Secret Weapon Set to Foil China's Master Plan
Japan Defense Minister Tomomi Inada confirmed KCNA's claim to the BBC Sunday evening. She explained that the weapon had been launched at a high trajectory (meaning it was aimed high), which limited the distance it traveled – a total of 787 kilometers.
"But if it was fired at a standard trajectory, it would have a range of at least 4,000 kilometers," Inada explained.
That means it could have handily reached the shores of Japan or South Korea. Tokyo is just over 1,000 kilometers away from North Korea, well within the missile's 4,000-kilometer estimated range. South Korea is even closer to the Hermit Kingdom at only 493 kilometers away.
To this point, Patalon says, "There's no telling when North Korea will intentionally – or unintentionally – hit its neighbors. Or when the country will be able to hit the U.S. with a missile for that matter. But they're definitely getting there."
As far as the distance between North Korea and the United States is concerned, we're upwards of 10,000 kilometers away. A safe distance, for now at least.
But once again, Uncle Sam responded to Sunday's launch with abstract, arguable complacency…
North Korea Got a Mere Finger-Wagging from Uncle Sam
"The United States maintains our ironclad commitment to stand with [Japan and South Korea] in the face of the serious threat posed by North Korea. Let this latest provocation serve as a call for all nations to implement far stronger sanctions against North Korea," the White House's official website stated Monday.
The U.S. government's tendency to dismiss or outright deny North Korea's true threat boggles Patalon, because he knows the rate of progression of North Korea's weapons advancements – from the dynasty's sub-launched ballistic missiles (SLBMs) program to its hyper-sonic glider creation.
It's progression that Washington isn't willing to recognize – or isn't aware of.
That's what makes Patalon's Private Briefing subscription service so vital: Not only does he provide readers with in-depth knowledge about what to watch for in the Asian Arms Race, but he also fills members in on where the profit plays lie.
For example, one investing strategy from Patalon has delivered 217 double- and triple-digit peak-gain winners since 2011. And you can get access for just pennies a day. Learn more right here…
Follow Money Morning on Twitter @moneymorning, Facebook, and LinkedIn.
Related Articles: