(Kitco News) – World stock markets were mostly lower overnight. U.S. stock indexes are pointed toward lower openings when the New York day session begins. A feature in the marketplace at mid-week is the slumping U.S. dollar against the major world currencies. The dollar index hit a six-month low overnight and has been pressured in part recently by what many traders and investors see as increasing turmoil in the Trump Administration that could delay or prevent his pro-business and other initiatives from succeeding.
The latest reports on the Trump turmoil say the U.S. President may have asked the FBI to back off investigating ousted national security advisor Michael Flynn. Up to now, the marketplace had been mostly ignoring the politics in Washington, D.C. However, markets are now thinking Trump could be in some real trouble.
Gold prices are posting solid gains and hit a two-week high in pre-U.S. day trading, boosted by a faltering U.S. dollar index.
Nymex crude oil futures prices firmer in early U.S. trading today. Oil bulls still have some upside momentum as Nymex futures prices have rallied around
$6.00 a barrel from the May low.
In other overnight news, the Euro zone April consumer price index came in at up 0.4% from March and up 1.9%, year-on-year. Those numbers were in line with market expectations. The annual inflation rate in the Euro zone is now just about what the European Central Bank wants it to be.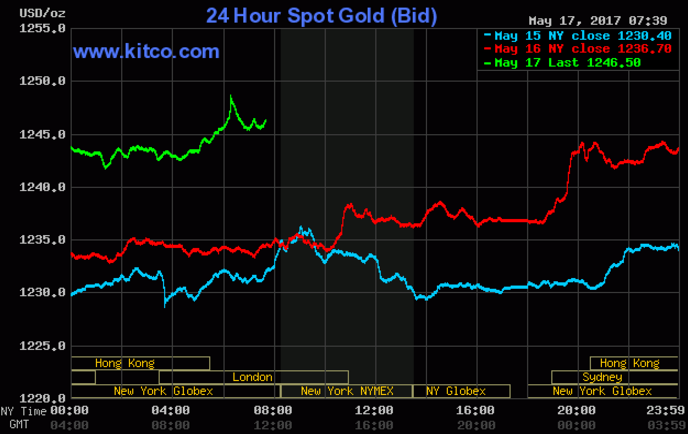 U.S. economic data due for release Wednesday is light and includes the weekly MBA mortgage applications survey and the weekly DOE liquid energy stocks report.
By Jim Wyckoff, contributing to Kitco News; jwyckoff@kitco.com
Follow Jim Wyckoff @jimwyckoff for breaking news.