Since the start of 2017, Uber has been entangled in seemingly continuous controversies, including one that led to 200,000 users deleting the app in a single weekend in January.
Now, on top of all the bad news for the ride-hailing app, CEO Travis Kalanick has to worry about increased competition that could derail any Uber IPO plans.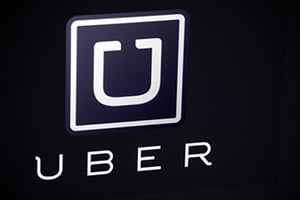 According to a May 14 report from The New York Times, Waymo, a self-driving car unit owned by Alphabet Inc. (Nasdaq: GOOGL), signed a deal to work with Uber's rival Lyft.
You see, self-driving cars will completely change how companies like Uber and Lyft operate. Ride-hailing services will no longer have to pay drivers, and cars could operate 24 hours a day.
And because of the partnership with Google, Lyft now has a major advantage over Uber...
Why Uber Is Losing the Self-Driving Car Race for Ride-Hailing Apps
To Kalanick's credit, he knew he had to invest in self-driving cars when he opened up a robotic research facility in February 2015 in Pittsburgh.
Financial terms weren't disclosed for the facility, but Kalanick raised $1.2 billion in June 2014 before announcing the opening of the research center in December 2014.
Despite Kalanick's efforts, Google is far ahead of Uber in research for autonomous vehicles...
In 2012, a Toyota Prius modified with Google technology became the first self-driven car in the United States to receive a license. Since then, Google's rapidly expanded, with 1.9 million miles logged for its autonomous vehicles, according to an August 2016 Google report.
Video
A Ride in the Google Self-Driving Car
And by partnering with Waymo, Lyft is able to use the self-driving car unit's expertise and save billions in research.
As Uber sinks more money into self-driving cars, it will be difficult for the company to be profitable before an IPO. Uber recorded a net loss of $2.8 billion in 2016, so the company isn't close to making a profit. That doesn't factor in the need for massive investments to compete with Lyft and its Google partnership.
Because Uber isn't profitable right now and may never be profitable, Money Morning doesn't recommend owning Uber stock when an IPO finally happens.
However, we have a backdoor way to profit from the IPO hype without even owning Uber stock. Best of all, you don't even have to wait for Uber to go public.
Energy Breakthrough: One gallon of this new "crystal fuel" could get you from New York to L.A. and back... seven times! Read more...
This profit opportunity is happening right now, and it could net you gains as high as 31% in the next 12 months...
This Strategy Lets You Profit from Uber Before an IPO