(Kitco News) - World stock markets were mostly firmer overnight. The political drama in Washington, D.C., has died down a little bit, for now, which has allowed global stock markets to stabilize and focus more on recent upbeat economic data coming out of the U.S. and the European Union. U.S. stock indexes are heading toward firmer openings when the New York day session begins.
Gold prices are trading near steady in pre-U.S. day trading, as the anxiety levels among most traders and investors have receded the past 24 hours.
Maybe the world marketplace was somewhat assuaged by remarks from U.S. President Donald Trump to the press on Thursday. He said he had nothing to do with collusion with the Russians regarding the last U.S. presidential election, and did not ask the fired former FBI director to back off on his investigation of Trump's former national security advisor.
The key outside markets on Friday morning find the U.S. dollar index lower again and continuing its downside trek after Thursday's brief bounce. The dollar index is hovering near this week's six-month low. Meantime, Nymex crude oil futures prices higher. Oil prices have trended solidly higher just recently, to suggest prices have put in a market bottom.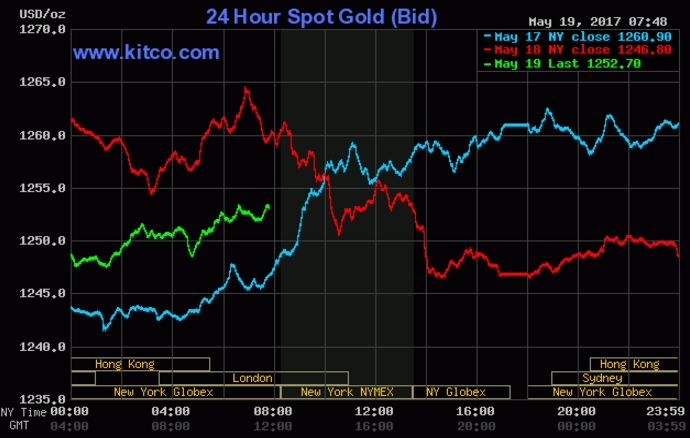 There is no major U.S. economic data due for release Friday. President Trump begins his first overseas trip as he heads for Israel, Saudi Arabia and Italy.
By Jim Wyckoff, contributing to Kitco News; jwyckoff@kitco.com
Follow Jim Wyckoff @jimwyckoff for breaking news.