Renewable energy is the fastest-growing energy sector in the world, which means investors are looking for the best alternative energy stocks to buy in 2017.
To help investors research alternative energy stocks, we're giving you a list of the best-performing clean energy stocks this year based on share-price growth.
| | | | |
| --- | --- | --- | --- |
| Company Name | Share Price | YTD | Market Cap |
| Broadwind Energy Inc. (Nasdaq: BWEN) | $5.19 | +28.68% | $73.69M |
| NRG Energy Inc. (NYSE: NRG) | $15.64 | +3.36% | $5.01B |
| JA Solar Holdings Co. (Nasdaq: JASO) | $7.04 | +47.69% | $329.62M |
| SolarEdge Technologies Inc. (Nasdaq: SEDG) | $17.62 | +41.73% | $735.51M |
| Games Corp. (OTCMKTS: GCTAF) | $22.81 | +11.76% | $15.54B |
| TerraForm Global Inc. (Nasdaq: GLBL) | $4.78 | +20.89% | $842.35M |
| Pattern Energy Group Inc. (Nasdaq: PEGI) | $21.99 | +15.85% | $1.93B |
| Hannon Armstrong Inc. (NYSE: HASI) | $21.71 | +14.32% | $1.11B |
| Canadian Solar Inc. (Nasdaq: CSIQ) | $12.95 | +6.32% | $764.15M |
| NextEra Energy Inc. (NYSE: NEE) | $137.32 | +14.9% | $64.52B |
But even though some of these clean energy stocks are up on the year, it doesn't mean they're the best stocks to own.
Some of these stocks are volatile or have already peaked. At Money Morning, we aren't interested in jumping on bandwagon stocks that aren't going anywhere or taking risks on unknown companies.
Instead, we're going to give you our top renewable energy stock to buy this year, right after we show you why right now is an excellent time to invest in alternative energy.
Why Renewable Energy Is Ready to Grow Now
Global energy demand will rise 25% by 2040, according to the EPA. But that demand won't be met without renewable energy.
As supplies of traditional energy sources start to shrink, energy suppliers must increasingly look to new reservoirs, which require more intensive and invasive means of extraction. This, in turn, means more traditional sources will be more expensive to extract.
Energy Breakthrough: One gallon of this new "crystal fuel" could get you from New York to L.A. and back... seven times! Read more...
The International Energy Agency (IEA) is already anticipating that oil and gas companies will have to start tapping into these more challenging reservoirs as existing sources start drying up. That's why they expect renewable sources will become the leading supplier of electrical power in the United States.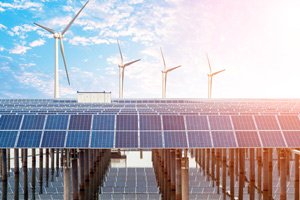 On top of that, the demand for clean energy is rising on its own as more people are becoming increasingly concerned about the impact of fossil fuels on the environment. With concerns over global warming mounting, renewable energy is seen as a necessary alternative to fossil fuels.
But renewable energy's minimal environmental impact is only one part of its attractiveness.
Another key benefit of alternative energy is that, unlike oil and gas, it is unlimited. The only challenge for harnessing the power of renewable sources of energy, like solar and wind, is developing the technology to do it. So far these technologies have proven costly to effectively draw power out of renewables. But these costs are quickly falling.
The costs of solar energy are 1/150th of their costs in the 1970s, and they've dropped 10% in the last year too. Today, both solar and wind energy have reached grid parity in certain regions. That means it's just as cheap to use solar and wind to generate electricity as traditional sources like coal and natural gas. According to new EIA data, wind power is now the cheapest source of energy for new power plants.
Now that costs are falling for renewable sources of energy, they now have a tremendous advantage over fossil fuels. That means the industry is primed for growth, and you can profit right alongside it...
Why Investors Are Looking for Alternative Energy Stocks to Buy
Both solar and wind energy sources could post triple-digit gains in the next two decades, but these sources are growing quickly. That means investors don't have much time to wait if they want to catch this explosive growth industry.
According to EIA projections, wind energy will grow 118% by 2040. The EIA's Annual Energy Outlook forecasts wind energy will lead all renewable sources in electric power generation by then.
Top Story: Why 2017 Is the Year for Investing in Renewables
But solar energy is growing even more dramatically. The EIA's forecast shows solar power generation will grow 376% by 2040.
Even though 2040 might sound like a long way off, this explosive growth is happening right now. Wind energy consumption will grow 36% by the end of next year, and solar energy production is on track for 60% growth by 2018 too.
This sort of growth potential could be a profit windfall for investors who know which renewable energy stocks to buy. And we're giving you our top renewable energy stock to buy in 2017, one Wall Street analysts are projecting could grow over 20% in 2017 alone...
The Best Renewable Energy Stock to Buy in 2017