Investing in the right marijuana stocks can be massively profitable, but the pot stock sector is full of risks.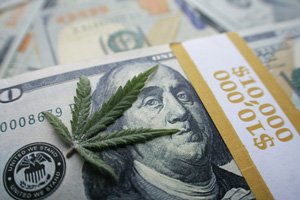 That's why today, we're providing Money Morning readers with three important tips for investing in pot stocks from the Financial Industry Regulatory Authority (FINRA). Also, we'll show you how to access our special marijuana investing report from Money Morning's pot stock expert in just a bit.
The first tip is critical for all investors and is particularly important for successfully investing in pot stocks…
Marijuana Stocks Safety Tip No. 3: Know Where the Stock Trades
Most marijuana stocks trade on over-the-counter (OTC) markets because they don't meet the standards of major exchanges like the Nasdaq or the New York Stock Exchange (NYSE).
According to FINRA, there are generally no minimum quantitative standards that a company must meet to be listed on the OTC markets.
This is common for the marijuana industry as companies are just starting to create new products and services. But it's important to know where the stock is trading because risk-averse investors may want to stay away from stocks outside of the NYSE or Nasdaq.
Video
Spotting Marijuana Stock Scams
You see, the prices of these stocks on the OTC markets can be extremely volatile.
That's because the trading volume is lower for these stocks, and if shareholders see a sudden increase in volume, they will react to the volume and quickly buy or sell shares.
Fortunately, risk-averse investors can still own shares of pot stocks on more regulated markets. Cara Therapeutics Inc. (Nasdaq: CARA), Corbus Pharmaceuticals Holdings Inc. (Nasdaq: CRBP), and Innovative Industrial Properties Inc. (NYSE: IIPR) all trade on major exchanges.
Marijuana Stocks Safety Tip No. 2: Read the SEC Filings
Most public companies will file reports with the U.S. Securities and Exchange Commission (SEC). Investors can reference the SEC's EDGAR database to see if a company files with the SEC.
By checking the filings, investors can verify information they've heard about the company.
Trending: Top Marijuana Stocks to Watch This Week (May 22)
Through this information, investors can see if a certain cannabis company fits into their investment strategies. It will provide investors with information on current earnings, forward-looking revenue, challenges, and new products and services the company plans to develop.
Armed with SEC filings, investors can make better decisions.
And the third marijuana stock safety tip is one of the best ways to avoid manipulation…