President Trump's budget plan - due to be released tomorrow (May 23) - is expected to cut some $1.7 trillion worth of government programs.
And $800 billion of those cuts will reduce federal funding for Medicaid and Medicaid-related programs in particular. These cuts could therefore affect roughly 70 million low-income children, adults, seniors, and disabled Americans nationwide.
Specifically, three government Medicaid programs will suffer the most from the Trump administration's budget proposal. And right now, their fate is the source of contentious debate on Capitol Hill. The programs are:
Supplemental Nutrition Assistance Program (SNAP)
Children's Health Insurance Program (CHIP)
Social Security Disability Insurance (SSDI)
White House officials told Axios yesterday that the programs were targeted to curb fraud and abuse by placing "an emphasis on work requirements for able-bodied people" who receive funds from these programs.
Here's a look at what each of these programs cover as well as what they're expected to lose...
Trump's Budget Proposal Cuts to Just 3 Programs Could Affect 70 Million People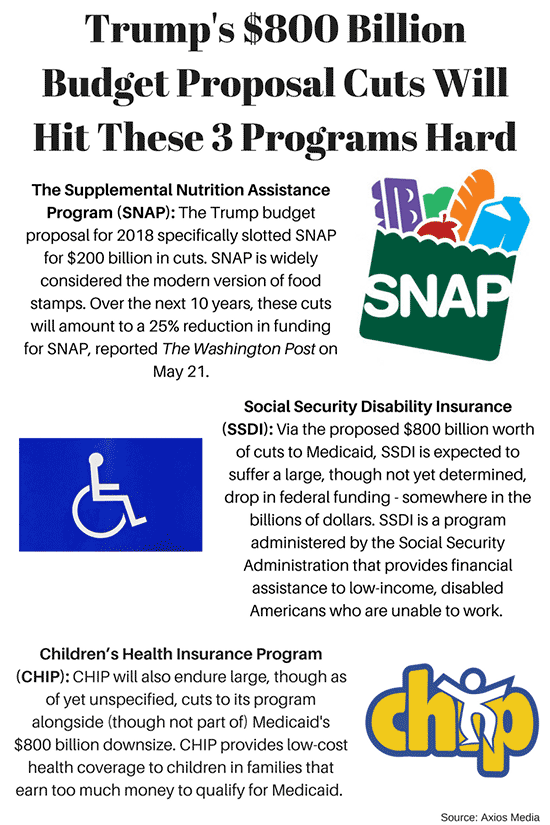 These particular cuts, however, are purportedly splitting the GOP along the same lines that surfaced amid the recent Obamacare repeal and replace debate, Axios added...
Conservatives versus moderates, essentially.
"Conservatives will love [President Trump's budget plan]," one Trump official explained to the news outlet. "Moderates will probably hate it."
The source's comments were based on the assumption that "these mandatory cuts - especially to politically sensitive programs like food stamps - will make some moderate Republicans as nervous as the recent healthcare bill did," reported Axios. That is, moderates may fear retribution over such deep cuts from constituents who support or rely on these programs.
Urgent: You could make $1.6 million or more by learning how to extract cash from failing businesses. Find out more...
Conversely, hardline conservatives are expected to appreciate the effort to cut the "waste, fraud, and abuse" in the system they have for so long been trying to fiscally target.
There's one crucial element to understand about Trump's 2018 budget plan, especially when considering the ultimate damage these programs could incur from spending cuts.
You see, in order for the budget plan to ultimately succeed over the next decade, and for these cuts to actually slash the amounts outlined in the proposal, two major assumptions must be realized in Congress in the very near future...
The Success of Trump's Budget Plan Hinges on These Two Assumptions
First, economic growth in the United States must proceed at a 3% average rate annually in order to fiscally maintain the budget plan's goals over the next decade, reported The Washington Post on Sunday.
For context, the U.S. economy's annual GDP growth rate was 2% in 2016 - the Trump administration's policies would need to provoke a 1% annual rise in growth. The Washington Post pointed out, however, that precise plans to provoke such growth don't yet exist on Capitol Hill.
"There are no policy levers that could boost GDP growth by a point," the outlet stated yesterday, "and the ones the administration is proposing -- trickle-down tax cuts and financial market and environmental deregulation -- have no growth track record at all."
Second, President Trump must sign the American Health Care Act (the AHCA, or the GOP's healthcare plan) into law in the very near future - and as it is currently written.
That's because under the AHCA, federal support for Medicaid and Medicaid-related program expansion would be rolled back and shifted to individual states instead. This shift in responsibility from the federal government to the state basically accounts for $800 billion in federal cuts expected to be presented to the American public tomorrow.
Up Next
What do billionaires Peter Lynch, President Trump, and a retired cop from Northridge have in common? They've all benefited enormously from a curious Great Depression-era "program." And even though most have no idea this exists, it could be worth $68,870 or more to the average American. Continue reading...
Follow Money Morning on Twitter @moneymorning, Facebook, and LinkedIn.
Related Articles: