Renewing the OPEC production cut is up for debate during the OPEC meeting this week, and reaching an agreement would be a huge catalyst for oil prices.
In fact, oil prices could rise roughly 7% by mid-June if OPEC renews its oil production cut agreement at its meeting on Thursday, May 25, in Vienna.
When OPEC agreed to cut production on Nov. 30, 2016, WTI crude oil prices surged from $45.23 a barrel before the agreement to $53.72 by the end of the year. By agreeing to slash production, OPEC hoped to reduce oil inventories and drive up oil prices. Oil futures traders agreed, pushing oil prices 16% higher ahead of the deal's official start date.
But American oil producers are not part of OPEC deals, so when oil prices rose, American producers started pumping more oil. American oil production is up 6.1% since the OPEC deal went into place on Jan. 1.
American production growth has put pressure on the OPEC cut, as oil traders worry the initial cut is now not enough to reduce the world's oil supply glut. That's caused oil prices to fluctuate dramatically this year.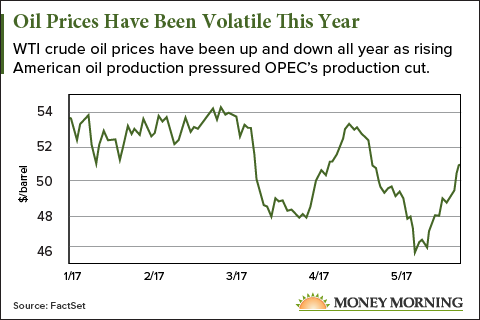 The reason the OPEC meeting this week is so important is because a production cut could lead to more stable prices. If OPEC extends its production cut, there will be more confidence that oil inventories will continue to fall and boost oil prices to a consistently high plateau.
Here's what investors can expect on Thursday, including whether OPEC will extend its cuts...
What's at Stake in the OPEC Production Cut Meeting
On Nov. 30, the member states of OPEC and 11 other countries agreed to cut their collective oil production by 1.8 million barrels a day. The deal went into effect on Jan. 1 and was set to last six months. OPEC and the 11 other countries are now deciding whether to extend these cuts for nine more months.
This Could Make Big Oil Obsolete: One gallon of this new fuel could produce enough energy to power a car for 42,325 miles. It's being hailed by many experts as energy's "Holy Grail." Read more...
If OPEC renews its production cut on Thursday, the agreement will extend to March 2018. Adding that much time to the production cut deal should ease traders' minds enough to boost oil prices, especially in the near term.
While there are over 24 countries participating in the deal, the two most important participants are responsible for 25% of the world's daily oil production. The two key players in the deal are Saudi Arabia, OPEC's largest oil producer, and Russia, the biggest non-OPEC member country participating in the deal. Without their participation, the deal falls apart. If OPEC fails to reach an agreement, the existing production cut will end on June 1.
Saudi Arabia and Russia are two of the top three oil producers in the world, alongside the United States. That makes their participation and leadership crucial to getting an agreement.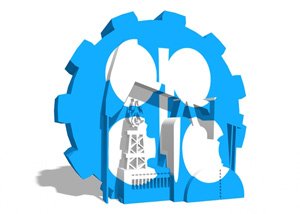 But these countries have not always been supporters of OPEC cuts. In December 2014, Saudi Arabia walked away from a production cut agreement in hopes that lower oil prices would put America's growing shale oil industry out of business. Oil prices crashed from $106.83 a barrel in 2014 to $29.42 in 2016, a 73% fall.
The Russians have also been reluctant to cut deals in the past. Before the last OPEC agreement in November, the CEO of Russia's largest oil company, Rosneft, poured water on the deal. In October, Igor Sechin held a press conference, asking, "Why should we do it?"
Now, these two countries are in the driver's seat ahead of the OPEC meeting on Thursday.
And leaders from Russia and Saudi Arabia have opened up to the press in the last week about where they stand on renewing the OPEC deal. Here's what they're saying and what it could mean for oil prices this year...
Will OPEC Extend Its Production Cut?