As investors wait for more Airbnb news on a public offering, the vacation rental service is still generating plenty of headlines.
According to TheDenverChannel.com, travel hosts in Colorado mountain towns raked in a whopping $32 million during the last ski season. According to the report, there were 10 towns with 2,800 hosts who welcomed 121,000 guests between Nov. 15, 2016, and April 15, 2017.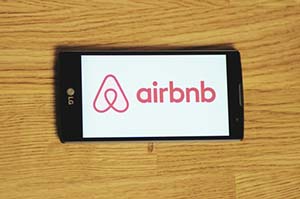 Five towns made the bulk of that $32 million, including:
Breckenridge: $12.6 million
Vail: $5 million
Steamboat Springs: $2.9 million
Keystone: $2.8 million
Frisco: $1.9 million
The average rate to rent an Airbnb in a Colorado mountain town during ski season depends on the area. For example, the average is $220 per night in Dillon, Colo., compared to $440 per night in Vail, Colo., one of the top earners on the list.
But how does Airbnb profit from all this?
It charges a 3% fee from the reservation subtotal from hosts, as well as a 6% to 12% fee for guests depending on the subtotal.
If the subtotal is $800 for two days, that means Airbnb could make between $72 and $120 in fees from just one rental.
Remember, Airbnb has a major advantage over hotels because it doesn't have the same operating costs as a hotel. Airbnb doesn't own the buildings it rents out, it doesn't pay a hotel staff, and it doesn't have to pay the energy bills of a building.
Energy Breakthrough: One gallon of this new "crystal fuel" could get you from New York to L.A. and back… seven times! Read more…
And this business model is why Airbnb is profitable ahead of its inevitable public offering…
Why Wall Street Is Hyping Up the Airbnb IPO   
According to a January 2017 Business Insider report, Airbnb went into the black in the second half of 2016.
This is a stark contrast to most unicorn companies (private companies valued over $1 billion). Snap Inc. (NYSE: SNAP) was valued at $23.6 billion before its March 2017 IPO, despite having a net loss of $515 million in 2016.
Uber is currently valued at $70 billion, but lost $2.8 billion in 2016, according to CNN.
So because Airbnb is profitable and worth over $1 billion, does that mean it's worth investing in?
We made this thorough and free Airbnb IPO and stock guide exclusively for Money Morning readers that will answer all of your questions. In it, you'll find more on when Airbnb started, how it makes money, how much the company is worth, when it could go public, and if you should invest in Airbnb on the Airbnb IPO date.
You can find this exclusive guide, right here.
Follow Money Morning on Facebook, Twitter, and LinkedIn.