As of Tuesday, May 30, 2017, the Fed rate hike odds sit at 88.8%, according to CME Group's FedWatch Tool.
And there are two reasons why the markets are so confident the Fed will raise rates in June 2017...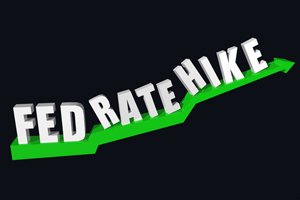 The first reason stems from the Federal Reserve's December 2016 announcement that it wanted a total of three rate hikes in 2017. Rates were raised in the March FOMC meeting from 0.75% to 1%, but were left unchanged at the May FOMC meeting.
And if FOMC officials want to meet their objective of three rate hikes, they have to raise rates soon.
After the June 2017 FOMC meeting, there are only four more meetings for the year. To spread out the rate hikes, the markets are placing the highest odds on the Fed raising rates in June and then again in December 2017.
The second reason to expect a Fed rate hike in June is strong job growth numbers and low unemployment totals.
According to the May 2017 FOMC meeting minutes, the Fed will raise rates when it sees evidence of strong economic growth.
Video
How Interest Rates Are Set
And compared to last year, it looks like job growth is stronger, and unemployment rates will be lower.
Last year, analysts expected 162,000 jobs to be created in May 2016, and the unemployment rate was 4.7%. This year, analysts expect 185,000 jobs will be created, and the unemployment rate will be 4.4%.
Job growth totals and the unemployment rate will be announced on Friday, June 2, 2017. Barring underwhelming totals, the Fed will have enough justification to move forward with an interest rate hike.
However, the Fed could always change its mind and keep rates unchanged. And because that would create uncertainty, stock and bond prices could become volatile.
Trending: The 7 Best Dividend Stocks to Buy in 2017
"Earnings drive stock prices. Interest rates drive bond prices. And this can make it extremely difficult to know exactly how to protect your portfolio (and still profit) in the markets - especially in the face of a 90% or better chance of an interest rate hike," Money Morning Options Trading Specialist Tom Gentile said on May 26.
This uncertainty is why Gentile has a strategy for our readers that can not only protect your portfolio, but also provide profits.
Here's everything you need to know about Gentile's protection and profit strategy...
Make These Moves Now as the Fed Rate Hike Odds Increase