Most tech companies don't pay a dividend. Instead, they reinvest revenue to enhance products and expand services, or to boost research and development.
However, finding the best tech dividend stocks can be one of the greatest ways to create wealth in the markets. These stocks combine a skyrocketing stock price with strong quarterly dividend payouts.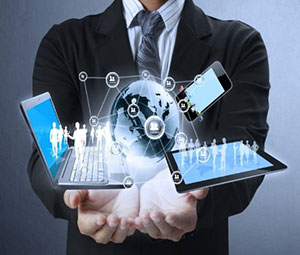 Over the last 12 months, the Dow Jones Industrial Average has climbed just 18.02%. Meanwhile, the first stock on our list has climbed 53.18% and has a quarterly dividend yield of 1.65%.
The second stock on our list has climbed 32.17% and has a quarterly dividend of 2.23%. And the third stock on our list has climbed 60.93% and has a yield of 1.74%.
That's why we're sharing these three tech stocks that pay a dividend with Money Morning Members right now. These stocks are all far outpacing the broader markets and offer steady dividend payments.
And the first dividend stock to watch in 2017 is actually the biggest dividend stock in the world...
Dividend Stocks in Tech to Watch, No. 3: Apple Inc.
This may come as a surprise, but Apple Inc. (Nasdaq: AAPL) now pays the most money in dividends of any stock in the world, according to CNBC.
Sign up for SMS so you never miss special events, exclusive offers, and weekly bonus trades.
On May 2, the tech giant announced it was increasing its dividend by 10.5%.
Video
Here's How DRIPs Work
That means it will pay $13.2 billion annually in dividends, surpassing Exxon Mobil Corp.'s (NYSE:
XOM
) payout of $12.7 billion annually.
Of course, the first dividend payout was more modest than the current payout of $0.63 per share (1.65% yield). Apple first paid a dividend of $0.06 on June 15, 1987, when the APPL stock price traded at $1.41 per share.
From today's opening price of $153.97, AAPL stock has increased 10,819%.
If you had made a $10,000 investment in AAPL on May 30, 1997, that initial investment would now be worth a small fortune, especially if you used a dividend reinvestment program (DRIP).
As of May 30, 2017, that $10,000 stake in 1997 is now worth $2.8 million.
Dividend Stocks in Tech to Watch, No. 2: Microsoft Corp.
Microsoft Corp. (Nasdaq: MSFT) is known for its Microsoft Office software suite and Xbox video game system.
Now it's a leader in both cloud computing, with its Azure network service, and virtual reality/augmented reality, with its HoloLens headset. And even as it has grown and expanded with high-tech products, Microsoft has been rewarding shareholders with a dividend.
It first paid a dividend of $0.08 on Sept. 14, 2004. At the time, the MSFT stock price traded for $27.37 per share.
Today, MSFT pays a dividend of $0.39 per share (2.23% yield), and the stock trades for $70.53 per share. That's a dividend payout increase of 387.5% and a stock price climb of 157.69%.
Don't Miss: Trump's Secret Weapon Set to Foil China's Master Plan
Through a DRIP, a $10,000 investment on Jan. 2, 2004, would now be worth $37,702.85. That's a total return of 277.02%.
And Money Morning believes Apple and Microsoft will continue to provide shareholders with long-term wealth.
And the stock price of the next dividend tech stock on our list could climb over 20% in the next 12 months...
When you combine that with a quarterly dividend, it will easily outperform the market...