This list shows the top technology penny stocks to watch in June, including the penny stocks with the biggest gains from May...
| | | |
| --- | --- | --- |
| Technology Penny Stock | Current Price | May 2017 Gain |
| Camtek Ltd. (Nasdaq: CAMT) | $6.33 | +70.2% |
| Sito Mobile Ltd. (Nasdaq: SITO) | $4.05 | +55.8% |
| Finjan Holdings Inc. (Nasdaq: FNJN) | $2.96 | +51.8% |
| Sypris Solutions Inc. (Nasdaq: SYPR) | $1.47 | +42.7% |
| Moxian Inc. (Nasdaq: MOXC) | $3.48 | +42.6% |
| Concurrent Computer Corp. (Nasdaq: CCUR) | $6.72 | +35.8% |
| SigmaTron International (Nasdaq: SGMA) | $6.90 | +28.9% |
| XG Technology Inc. (Nasdaq: XGTI) | $1.73 | +21% |
| Technical Communications Corp. (Nasdaq: TCCO) | $2.85 | +19.3% |
| Image Sensing Systems Inc. (Nasdaq: ISNS) | $3.35 | +17.5% |
So far this year, the tech sector has rallied to record highs. The tech-centric Nasdaq index is up 15.2% in 2017 - beating the Dow Jones' 6.3% gain - and even closed above the 6,200 mark for the first time ever on May 25.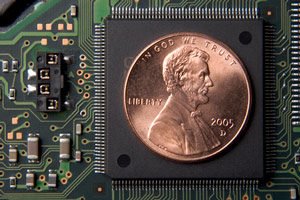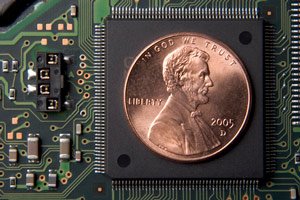 And tech penny stocks have been some of the biggest winners. The top performer of May was Camtek Ltd., which builds computer systems that inspect electronics and other products for possible defects during manufacturing. Shares of CAMT have steadily climbed over the last month after the firm reported record Q1 earnings on May 9. It posted revenue of $30.8 million - up 26% from the year-ago quarter - and Q2 guidance of $33 million to $34 million.
CAMT's 70.2% rally in May shows how profitable penny stocks can be compared to the broader market. But we do not recommend buying any of the top tech penny stocks in the chart above. After all, these firms have already posted big gains, meaning they might not offer much profit for investors who buy in now at their higher prices.
Additionally, investors should be careful when looking for penny stocks to buy. It's important to focus on companies trading on SEC-regulated exchanges like the Nasdaq and investigate their financial documents.
BREAKING: New Legislation Could Turn Tiny Pot Stocks into Millions. Click Here...
However, this financial research can be complicated. You have to go through hundreds of pages of 10-K reports and quarterly filings that are typically written in complex, technical language.
Here at Money Morning, we do that research for you...
Today, Money Morning Small-Cap Specialist Sid Riggs is recommending one of the best small-cap stocks to buy in 2017. Shares of this financial tech - or "fintech" - firm cost less than $8 a share, and analysts project shares to post a huge 41% return over the next year.
Here's one of the best small-cap stocks to buy in 2017...
Buy This Small-Cap Tech Stock for a 41% Return in 12 Months
[mmpazkzone name="in-story" network="9794" site="307044" id="137008" type="4"]
Our small-cap tech recommendation is Mitek Systems Inc. (Nasdaq: MITK).
The San Diego-based firm is known for its sophisticated identity verification software. Its services let users make mobile banking transactions like insurance payments and check deposits. These include Mobile Docs, which is used for scanning financial documents, and Mobile Verify, which can be used for validating driver's licenses.
Mitek boasts a huge presence in the growing mobile transaction market, which is projected to expand by up to 716% through 2021. According to Statista, total revenue for the tech companies making those transactions possible could be over $865 billion by 2021.
But Mitek's continued dominance will not only come from its mobile banking business, but also from its identity services.
"The company is already the world leader in mobile capture and identity verification, so it has a huge first mover advantage over its competition," Sid said. "It's no surprise, then, that its top line nearly doubled over the last two years."
In fact, Mitek's earnings history shows how its profits are soaring at a rapid rate. The company's net income has staged a massive turnaround in recent years, going from a $5.3 million loss in 2014 to a $1.9 million profit in 2016. Mitek raked in income of $1.2 million last quarter alone - up a stunning 109% from Q1 2016.
Even more attractive is Mitek's projected earnings growth. Five analysts surveyed by Yahoo Finance expect the firm to post on average 2017 earnings per share (EPS) of $0.29. That's more than quadruple the 2016 EPS of $0.06.
Those same analysts predict MITK to rise as high as $11 per share by May 2018. That would represent a strong return of 41% from the current $7.80 price for investors who buy in now.
With a strong foot in the mobile transaction sector and surging earnings, Mitek is one of the best small-cap tech stocks to invest in for stable returns in 2017.
A Pot "Bombshell" Just Hit Canada: For our neighbors to the north, it's shocking news. But it could be the best news of all time for marijuana stock investors. In fact, this single "bombshell" event could unleash a new pot stock boom that will blow the doors off anything we've seen up to this point. And by putting a couple of hundred bucks into a handful of tiny Canadian weed companies, you could pocket life-changing gains - turning a few hundred bucks into a fortune overnight. Watch this now to get all the details...
Follow me on Twitter: @AlexMcGuire92