Against all odds, it seemed as though big banks were about to be reined in under President Donald Trump. Nearly 20 years after Congress killed it, his administration had publicly announced on numerous occasions its intention to bring back Glass-Steagall…
For example, on April 5 Trump's National Economic Council and Senate Banking Committee Director Gary Cohn told a group of lawmakers that he would support a policy mandating the separation of investment banks from consumer-lending businesses (a Glass-Steagall reinstatement, essentially).
This particular pro-Glass-Steagall approach took lawmakers, investors, and perhaps especially Wall Street by surprise.
You see, Cohn, a former Goldman Sachs president and COO, was expected to be one of the most obvious "crony capitalists" on Capitol Hill – a favorite of big bankers who believed he had their best interests in mind.
For Money Morning Capital Wave Strategist Shah Gilani, it was a welcome (and yes, unanticipated) gesture from Cohn. Shah, who's been telling readers about the need to reinstate Glass-Steagall well before the 2008 financial meltdown even hit, has long been a skeptic of the big bankers who end up on Capitol Hill.
The Treasury Secretary's Bait-and-Switch
But then, on May 18 – a little more than a month after Cohn's statement – Treasury Secretary Steven Mnuchin dashed our hopes of a renewed Glass-Steagall when he informed the Senate Banking Committee that the administration's vision of the act didn't actually include investment and consumer bank separation at all.
"We do think there are potential things we could look at around regulation, but we do not support separation of banks and investment banks," Mnuchin said, according to Business Insider on May 19.
This statement boggled committee Chair Sen. Warren (D-MA), who then asked Mnuchin, "There are aspects of Glass-Steagall that you support, but not breaking up the banks and separating commercial banking from investment banking? What do you think Glass-Steagall was if that's not right at the heart of it?"
Shah was angered by Mnuchin's statement, too.
"I see [Mnuchin's] revelation as pathetic – that what the administration means by a '21st-century Glass-Steagall' isn't about Glass-Steagall," he says. "It now appears that the Trump admin is simply interested in community bank regulatory relief with its version of Glass-Steagall, which is something that could have been effected with a swipe of the pen and the support of Democrats. The problem with red herrings is that they smell."
In short, the White House's new push for a "21st-century Glass-Steagall" is less about regulating big banks and more about deregulating small ones.
A red herring for sure – one that implicitly suggests the crony capitalists on Wall Street and in Washington will continue to run free. And, according to Shah, they will leave wrecked American institutions and ripped-off taxpayers in their wake…
Big Banks Control Nearly Every American Institution
You see, as far as Shah's concerned, big banks are responsible – and have always been responsible – for the lion's share of America's problems: "From Russia [allegedly influencing the 2016 presidential election], to the media, to the wars we fight," he says, "they're the one common factor. So, if we cut down on these mega-banks' powers, we can start giving it back to average investors."
Must See: This small $6 U.S. defense firm with a new top-secret technology could help the Pentagon stop a Chinese sneak attack dead in its tracks. Read more…
It's a major undertaking to discern the links between America's biggest problems at present and the U.S. banking elite.
But this flow chart will give you a basic idea: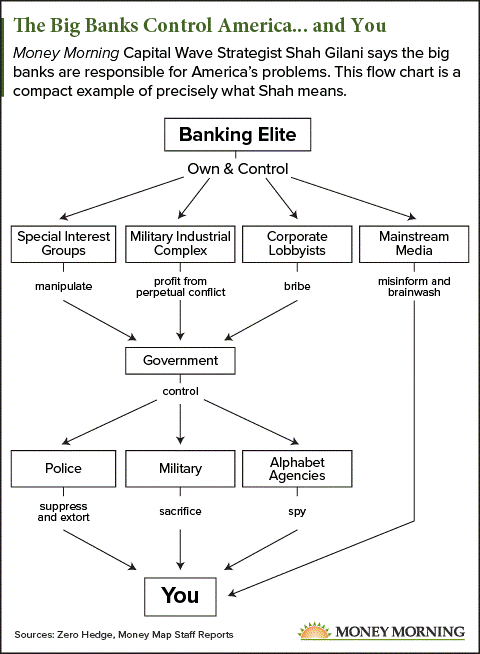 Shah says cutting the big banks' influence via Glass-Steagall's reinstatement – in its true form – would have been a stellar start to improving the lives of U.S. taxpayers now and in the future…
But thanks to the Mnuchin-Senate discourse, we now know a reintroduction of the true form of Glass-Steagall – the form that would help Americans – is almost certainly off the table.
How to Invest While Big Banks Rule "the Swamp"
Investors can look for resources to minimize their risk from the rampant Wall Street/Washington cronies, who – it seems – will be free to roam in the years ahead.
Leave it to Shah to consider looking for these opportunities within the banking industry itself, which stands to benefit from deregulation the most.
Right now, Shah likes Wells Fargo & Co. (NYSE: WFC), chiefly because it's a big bank with a stock price that's "on sale." It also offers the best, most consistent dividend yield of any major financial institution right now.
Read about Shah's "trick-the-trickster" profit plays with WFC and other industry leviathans right here…
Up Next: One gallon of this new "crystal fuel" could get you from New York to L.A. and back… seven times! Being hailed by many experts as energy's "Holy Grail," it's 1,693 times more powerful than the gasoline that runs your car. The mainstream investment media isn't even talking about it yet. Read more…
Follow Money Morning on Twitter @moneymorning, Facebook, and LinkedIn.
Related Articles: