Mylan N.V. (Nasdaq: MYL) Chair Robert Coury went home with $160 million in total compensation in 2016, despite a year plagued with scandal and disappointed shareholders, according to a May 30 regulatory filing.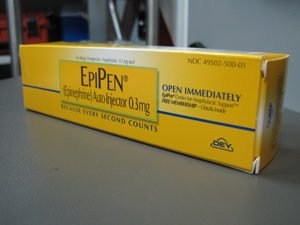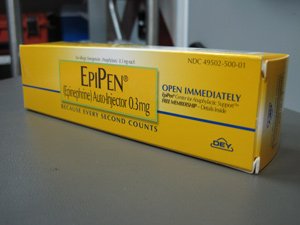 Coury's salary increase came after Mylan raised the prices for its EpiPen injectable allergy medication some 550%, fueling outrage from both consumers and lawmakers.
In fact, Mylan's stock tumbled 29% in 2016 in the wake of outrage over its EpiPen price tactics.
Yet its top talent - Chair Coury and CEO Heather Bresch - were rewarded with shocking salaries. Bresch was paid $13.8 million in 2016, down from $18.9 million the previous year, but still a 462% increase from 2007.
And these exuberant pay increases weren't just limited to 2016. Between 2011 and 2015, Mylan's top executives earned a collective $292.1 million, according to calculations by The Wall Street Journal.
We can't say we're shocked.
Once again, a Big Pharma company has rewarded its top execs at the expense of shareholders...
But this time, taxpayer money is involved too.
U.S. Sen. Chuck Grassley (R-IA) just revealed that taxpayers overpaid by as much as $1.27 billion for the EpiPen from 2006 to 2016, a whopping $805 million more than the overpayment previously reported during settlement talks with the Department of Justice last year.
Put simply, Mylan overcharged the government (aka the taxpayers) for EpiPen distribution by over a billion dollars.
Here's how they did it...
Mylan Overcharged Uncle Sam... by a Lot
Mylan abused the Medicaid Drug Rebate Program, which was designed to help offset the federal and state costs of most outpatient prescription drugs dispensed to Medicaid patients.
Must Read: Top Execs at UPS Rake It In Despite Missed Targets
According to the Medicaid website, the program requires a drug manufacturer to enter into a national rebate agreement with Health and Human Services (HHS) in exchange for state Medicaid coverage of most of the manufacturer's drugs.
When a manufacturer markets a new covered outpatient drug, it must also submit product and pricing data to the Centers for Medicare and Medicaid Services (CMS).
That's where Mylan's schemes began...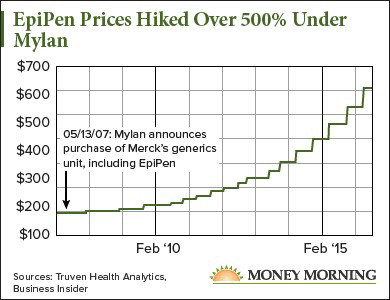 Mylan purposely misclassified the nature of the EpiPen as a generic medication, as opposed to its appropriate classification as a branded drug. And because the drug was classified as a generic, Mylan did not have to provide as much of a rebate to Medicaid as it would have for a branded drug - effectively overbilling the government.
"Mylan has historically classified EpiPen as a generic for purposes of the Medicaid Drug Rebate Program," said the HHS watchdog, the Office of Inspector General, in a letter to the Senate Judiciary Committee on May 31. "If EpiPen had been classified as a brand-name product, Mylan would have been required to pay inflation-related rebate amounts."
Even worse, CMS provided records confirming that it had notified Mylan on several occasions that EpiPen was misclassified, but the company took no action.
"Taxpayers have a right to know what happened here and to be repaid whatever they are owed," said Grassley.
And it's not just taxpayers who feel they have been cheated. Mylan's shareholders are livid...
Mylan's Shareholders Want Coury Out
Now, amid the recent reports of Medicaid fraud, Mylan's shareholders are revolting against the company, saying the greed has gone too far.
Special Report: Cannabis Is The Gold Rush of the 21st Century - 30 Stocks to Invest in Now
The ongoing EpiPen pricing scandal has caused Mylan "significant reputational and financial harm," the investors complained in a letter on May 30. "Mylan's board reached new lows in corporate stewardship... when it agreed to make extraordinary and egregious payments [to its top executives] in 2016," the investors wrote in the letter, signed by four institutional investors who collectively control 4.3 million shares of the company.
The letter also noted the significant decline in Mylan shares, which now trade around $40 - 11.85% lower than this time last year and 51% lower than what rival Teva Pharmaceuticals Industries Ltd. (NYSE: TEVA) offered to buy the company for in April 2015.
"All of the mudslinging back-and-forth between Mylan and Teva only served to reinforce our concern that Chairman Coury would rather keep his pay and power at Mylan's helm than likely lose those benefits to Teva's cost- and position-cutting," the investors wrote.
The combination of Mylan's unethical practices and clearly misguided management make Mylan a poor investment indeed. Instead, we recommend investors play a biotech stock that has much more upside...
A Big Pharma Stock We Like Better
"I understand the biotech sector, I understand the 'right' stocks to pick," said Money Morning Executive Editor - and champion stock picker -- Bill Patalon to readers on May 30.
Bill identified a biotech play with a possible "blockbuster" drug that could bring you annualized gains of up to 10,345%.
The pharmaceutical company is Insys Therapeutics Inc. (Nasdaq: INSY).
You see, according to Bill, investors should look to big new trends in the industry for serious gains.
"And two of the biggest new trends offer us some of the biggest potential gains with Insys," said Bill.
Those two trends are:
The "War on Pain" - where doctors are trying to find non-opioid drugs that can solve chronic pain.
The "Legalization of Medical Marijuana" - where doctors are recognizing the broad treatment potential of cannabinoid-based therapies.
"Insys has big upside because it's trying (and, so far, succeeding with flying colors) to work at the 'convergence' of those two powerful trends," said Bill.
And that's just the start. Now the firm is looking to commercialize a new drug, one that just received FDA approval...
Want to Invest in Weed and Don't Know Where to Start? Marijuana investing is in its "frontier" stage right now, when the earliest investors can make the biggest windfalls. Marijuana stocks are seeing triple-digit gains of 224%... 378%... even an exceptional 751%. We've made it easy for you to learn how to get started yourself with a unique "pot investment" plan. Click here to learn more...
Follow Money Morning on Twitter @moneymorning, Facebook, and LinkedIn.
Now Read...
The Five Most Outrageous Drug Price Increases of 2016
The Health Insurers Have Been Stealing from You for Over a Decade
5 Crazy Corporate Scandals So Far in 2017
[mmpazkzone name="end-story-hostage" network="9794" site="307044" id="138536" type="4"]