In silver price news today (Friday, June 2), prices are up 1.3%, and we think they're going even higher by the end of the year…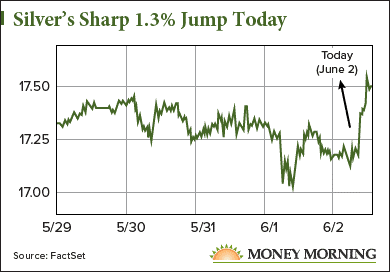 Silver prices are currently trading at $17.51 per ounce. If they can maintain that price level until the closing bell, they'll settle at the highest level since April 25, when silver closed at $17.59. The price of silver will also cap off a weekly gain of 1.1%.
Today's rally comes on the heels of a lackluster U.S. jobs report this morning, which pushed the U.S. dollar down and boosted silver. The U.S. Dollar Index fell 0.5% on the day, while today's silver gains pushed the metal closer to Money Morning Resource Specialist Peter Krauth's bullish 2017 target.
Before I talk more about Krauth's bullish silver price forecast, here are the details from the bombshell jobs report today…
This Weak Jobs Data Is the Big Silver Price News Today
Early this morning, the U.S. Labor Department released its May jobs report, which came in much weaker than economists anticipated.
According to the report, employers added 138,000 new jobs last month, which was 25.4% below the expected 185,000. That made investors who were nervous about the report's economic implications and skittish toward the U.S. dollar. The U.S. Dollar Index (DXY) – which measures the dollar against several notable currencies like the euro and pound – is down 0.5%.
Weakness in the dollar often pushes dollar-denominated commodities like silver higher. When the dollar drops, silver becomes cheaper to foreign currency users. This incentivizes them to buy silver at a discount, which increases demand and sends silver prices higher.
Trending: The 4 Best Silver Investments to Make in 2017
Despite the weaker-than-expected jobs growth, the economy still appears strong, with the unemployment rate at a 16-year low of 4.3%. This has boosted the odds of an interest rate hike at the June FOMC meeting to a near-certain 93.5%. Rate hikes are commonly thought to be bearish for silver since they boost the value of the dollar, thus making silver more expensive to other currency users and reducing demand.
However, we've just uncovered proof showing how high interest rate environments don't lower silver prices. In fact, they can actually be bullish for the silver market over the long term. This reinforces Krauth's bold silver price forecast that shows the metal could see double-digit returns this year.
Here's our high price target for 2017…
CHART: High Interest Rates Won't Affect Silver's Bull Run in 2017