I'm a trader. That means I like to be covered, defended at all times. That goes for individual trades and of course for all my capital.
My favorite protection? Owning gold.
The problem? There are a lot of ways to own it.
That's a concern I've heard again and again during my time as a trading and investing coach, and throughout my time as Editor of Power Profit Trades.
So today, I'm going to set trading aside for a moment to tell you what I think is the absolute best way to own the yellow metal.
Making Sense of Lots of "Ifs" and "Coulds"
The huge benefits that come from owning gold come with a unique set of decisions to make about how you own it.
You could own the physical metal, something you can hold in your hand. That could be in the form of jewelry. Or bullion - gold coins, ingots, and bars.
If you go the tangible route, you could buy from a dealer, or an online auction, or even estate sales and collectors.
And of course once you decide on that, you've got to decide whether you want it held for you or whether you've got the capacity to store it at home, hopefully in a (very) secure safe.
If you choose to have the gold held for you, you don't have to worry about personal security, but you'll have storage fees and a few hoops to jump through when and if you decide to redeem it.
When you want to cash in on your gold in this form, you have to go through the trouble of putting it back up for sale either through a dealer (who's just as likely as not to take a cut), or pay fees to sell it in an online auction. You could even hold your own private sale, if you feel you can drum up buyers on your own.
These are all perfectly fine ways to go about tapping into the unique protective profit potential of gold.
There are easier ways, though...
Own Gold Without, Well, Owning It
On the other hand, there are ways to invest in gold without ever having to see or touch it.
Gold futures are one way, although I'd only ever advise seasoned traders to even consider it. Futures should be thought of as speculating and, while there's certainly nothing wrong with that, it's not quite the same thing as investing. Even the most diehard gold-bug pro traders would tell you that.
Instead let me have you consider one of my favorite zero-hassle ways to play the yellow metal: gold exchange-traded funds.
These of course act like nice, liquid stocks in that you can buy and sell easily - and (my favorite) you can even trade options on them.
There are a few gold ETFs out there, and each one is a little different in the relationship between the physical metal and the fund.
The Sprott Physical Gold Trust (NYSE Arca: PHYS), for instance, permits you to redeem shares of the ETF for actual metal held at the Royal Canadian Mint in Ottawa, Canada. If you want at least the option to put your hands on real metal, that may be right for you.
My personal favorite, though, is the SPDR Gold Trust ETF (NYSE Arca: GLD)
It is set up to track the price of gold bullion. The fund can only create or retire shares by changing the amount of metal it actually owns in an HSBC Bank vault in London. You buy certificates - shares - in the ETF that represent that vaulted gold. You pay your typical brokers fees to buy and sell.
[mmpazkzone name="in-story" network="9794" site="307044" id="137008" type="4"]
This is a way to take place in the price of gold and potentially profit without having any storage fees or security issues with hanging on to gold yourself.
There's one more way to profit on gold, with a little something extra - by owning a piece of the companies that pull it out of the ground.
The Gold Miners Are a Great Play on Yellow Metal
Using my proprietary tools I'll bring up a list of metal-mining stocks I can show you. These aren't strictly gold stocks, remember.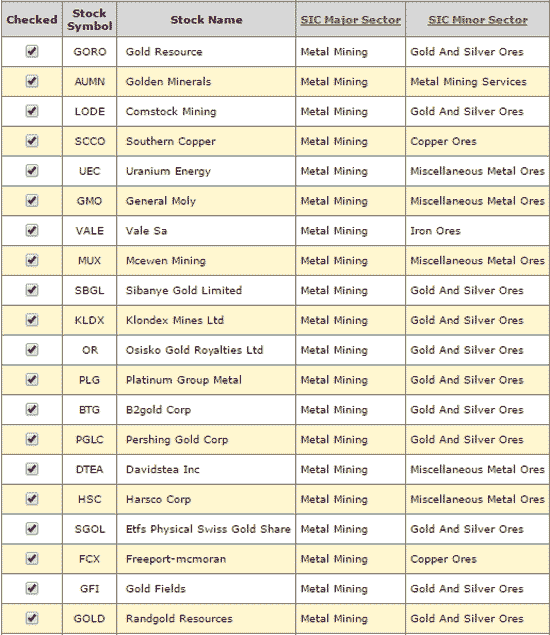 These are not sorted by any specific classification - just yet.
One way they can be sorted is by those at or near their 52-week high. You can look for those at or near their highs with the anticipation the strength that got them there can continue and the momentum will carry them higher still.
I can also look at each of the stocks I am interested in that may not be at their highs, but have hit a key Fibonacci retracement level that could act as support.
This support might just be the price level where buyers step in and propel this stock back up to higher price levels.
The list you see below is the metal-mining stocks resorted by percentage of their 52-week high: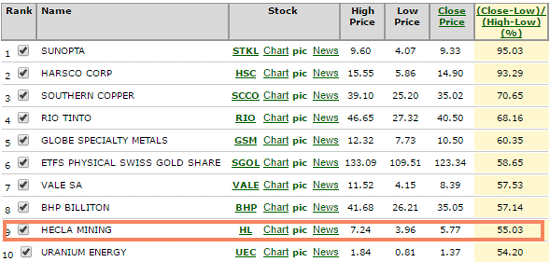 Of these top 10 stocks, by percentage of their 52-week high, only Hecla Mining Co. (NYSE: HL) mining is a true gold stock that is involved most heavily in gold (and silver) ores.
Interestingly, there isn't a straight-up gold mining stock at or near a 52-week high, so then we'll go through those and see how they look from a Fibonacci retracement perspective.
Here is Barrick Gold Corp. (NYSE: ABX), a classic gold stock.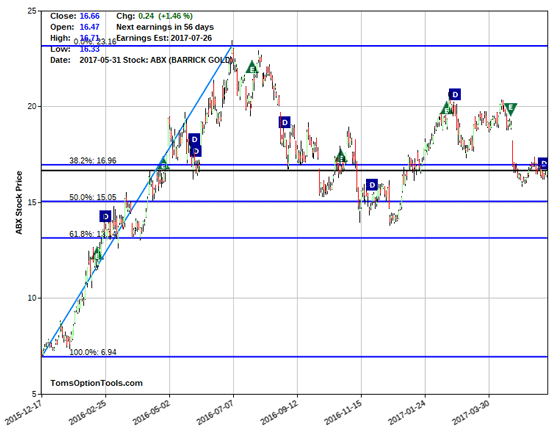 Right now, ABX is at or has tested below the 38.2% "Fibo level." The way I see it, that's technical support, so if playing gold stocks is the right thing for you and your financial advisor, then this is one to consider.
The market from here looks bound to roll over to some degree, so right now especially, it makes sense to own (and play) gold.
Note: Tom is putting the finishing touches on a special presentation right now, on how to get the biggest, fastest possible profits out of gold. We'll let you know the minute it's ready.
Follow Tom on Facebook and Twitter.
About the Author
Tom Gentile, options trading specialist for Money Map Press, is widely known as America's No. 1 Pattern Trader thanks to his nearly 30 years of experience spotting lucrative patterns in options trading. Tom has taught over 300,000 traders his option trading secrets in a variety of settings, including seminars and workshops. He's also a bestselling author of eight books and training courses.