Since early 2015, the market has had three distinct periods of sideways price congestion lasting anywhere between nine weeks and a whopping 27 weeks.
I've tracked these for you here each week, and in real time in my Stealth Profits Trader service.
Unlike what you might hear in the media, it's not only possible to make big money in sideways markets, it happens regularly – if you're patient and selective in trading the extremes that pop up across sectors in the most placid markets.
It's a great way to keep from "overtrading" when the market's not doing much.
But when the sideways motion stops and the market environment changes, it's a good idea to jump in with both feet.
That change is just what's starting to unfold right now. That means it's time to change tactics a bit and grab some opportunities to make money.
Check out these charts…
The Market Just Started Pushing Out of the Box
Just before the Memorial Day weekend, the market pushed outside the "box" for the first time in just shy of four months.
Here's what that action looks like on a chart: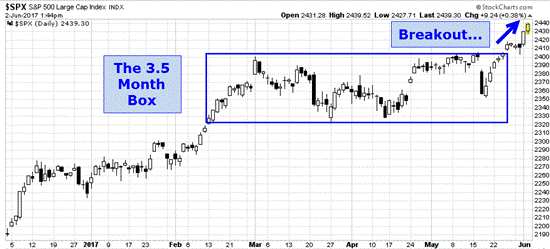 Seeing a chart like this, with markets just outside of their tightly "boxed" trading range, always – always – prompts a "Really Big Question," one that, thanks to the charts, technical traders like me usually have a ready answer for…
"So, what happens next?"
Again, thanks to the charts, that answer is easier to come up with than you might think.
In the markets, "past is prologue," so we just have to look at the historical movement during the last three breakouts:
Join the conversation. Click here to jump to comments…
About the Author
Nationally recognized technical trader. Background in  engineering, system designs, and risk reduction. 26 years in the markets.