Buying penny stocks can be a cheap way to make big profits in 2017. However, investors need to understand the high risk associated with penny stock investing and whether or not their portfolio can handle it.
You see, one of the main attractions of penny stocks are the cheap shares. They trade for under $5 per share, which means any significant price increase can provide investors with explosive returns in a short period of time. But these huge gains can often be the result of a pump-and-dump scam or financial fraud.
For example, Hongli Clean Energies Technology Corp. (Nasdaq: CETC) skyrocketed 143.7% from $1.90 to $4.63 in just the first week of April 2017. However, the stock's trading was then abruptly halted when the Nasdaq exchange requested additional information from the company. And on June 2, global investor rights law firm Rosen Law Firm filed a class-action lawsuit against Hongli for misleading investors through false financial information. If Hongli is found guilty, its stock could be delisted from the Nasdaq, and CETC investors could potentially lose their money.
Hongli is the perfect example of the inherent risk associated with penny stocks, even those that trade on major indexes. Still, if you want to invest in them safely, you're much better off sticking to firms that trade on major indices like the Nasdaq and NYSE than on over-the-counter (OTC) exchanges or the Pink Sheets. Since those exchanges aren't regulated as much as the Nasdaq and NYSE, they can be much riskier.
Penny stocks should also never account for more than 2% of your total portfolio. That's just one of the tips we recommend here at Money Morning.
Here are two more rules investors must follow for safe penny stock investing…
Penny Stock Investing Tip No. 1: Understand the 10-K Filings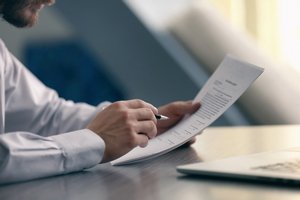 When you research penny stocks, it's important to dig into the company's financial filings first. These allow you to get a firsthand look at the company's profitability and overall health.
An important document to look at is the firm's 10-K filing, an annual report required by the U.S. Securities and Exchange Commission (SEC). A 10-K is helpful because it offers information on executive management and the firm's compensation structure.
If the company's executive team is being paid in cash as opposed to stock options, this is a major red flag. Opting to be paid in cash instead of stock options indicates the managers don't believe in the long-term success of the stock. Even worse, it shows they may be trying to cash in on the stock before it crashes and the firm goes bankrupt.
If the 10-K filing shows that management doesn't believe in the company's performance, there's absolutely no reason for you to invest in it.
Penny Stock Investing Tip No. 2: Be Vigilant of Pump-and-Dump Scams
Small companies looking to boost their stock price will sometimes pay for deceptive promotions. When executives own shares in the company, they will then sell those shares at the newly inflated price, causing the stock to tank and leaving new investors with massive losses.
This method of using deceptive advertising to generate interest in a stock before selling at a higher price is called "pump and dump." These schemes are dangerous for both new and the most seasoned investors because they promise rich rewards but end up cheating you out of your money.
While pump-and-dump scams can cause you big losses, there are three easy ways to detect them…
The first is the "wrong number" trick. Sometimes, a scammer will purposefully call a wrong number and leave a voicemail for a "friend" with a hot stock tip. This is meant to lead people to believe they've gotten lucky and stumbled upon a good investment opportunity.
The Biggest IPO of the Year: A highly anticipated IPO will happen any day now, and analysts are projecting a massive 254% gain right off the bat for private investors. But you must hurry. Read more…
Another sign of a pump-and-dump scam is mailed pamphlets in both physical and electronic form. While physical pamphlets falsely promoting a new stock aren't as common anymore, e-mailed newsletters hyping up a new stock are commonplace.
But with the advent of Internet communities in recent years, pump-and-dump scams commonly happen through online investment forums. Someone can take a large position in a stock that trades on low volume, which in itself will pump up the price. Then, they only need to begin asking questions about the stock online to get other investors interested and eyeing the stock. Once the stock's buying pressure appears ready to drop, the original perpetrator can easily dump their shares for a big return.
While there are plenty of reputable penny stocks that you can invest in, not getting taken for a ride requires that you remain on guard and do an extensive amount of research. Money Morning Small-Cap Specialist Sid Riggs understands that this is a lot of work, which is why he's done the legwork for you and provided a small-cap company that's one of his favorite investments of 2017.
Even though it is slightly more expensive than the average penny stock, it's worth a look as analysts expect it to return as much as 30.9% over the next year.
Here's Sid's newest recommendation…
This Small-Cap Stock Could Hand You a 30.9% Profit by Next June