Bitcoin climbed more than 8% yesterday (June 6), reaching a new all-time high of $2,967.48 during early trading hours.
Then Mark Cuban jumped in.
The billionaire investor and Dallas Mavericks owner posted a tweetstorm of crypto-coin skepticism Tuesday morning that ultimately saw Bitcoin's price fall - at one point all the way down to $2,732.99...
Bitcoin, Interrupted
Cuban first claimed on Twitter that he suspects Bitcoin is in a bubble:

Soon after Cuban's post, Bitcoin indeed slipped from its near-$2,900 intraday stronghold...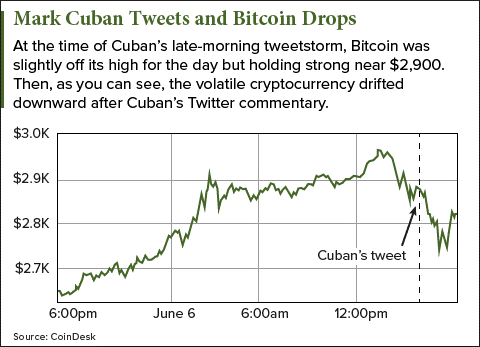 And while this emotional drop rattled some BTC investors out there, Money Morning's former Bitcoin "miner" and recognized expert David Zeiler wasn't surprised, nor was he disturbed...
In fact, he agreed somewhat with Cuban's claim.
But that doesn't mean he's giving up on the crypto-coin...
Bitcoin's Price Dropped? GOOD.
Cuban "isn't entirely wrong," David said this morning (Wednesday). "The price of Bitcoin has raced ahead of itself. But what we're seeing is a lot of demand pressure on a fixed supply. That isn't changing unless people suddenly get bored with Bitcoin."
Don't Miss: Why Initial Coin Offerings (ICOs) Raise Millions of Dollars in Seconds
And such sudden disinterest in the cryptocurrency doesn't seem likely to happen anytime soon...
"The key is that there's a general agreement among not just Bitcoin folks but venture capitalists, Wall Street bigwigs, and analysts that in the future Bitcoin will be worth a lot more than it is today - even though it's trading at all-time highs," David added. "So if there is a huge crash, a lot of people will simply see it as Bitcoin going on sale. And they'll swoop in, driving the price back up again."
So, yesterday's Cuban-inspired price plunge actually provided investors with a discount opportunity.
And though he may have overstated the case on the Bitcoin "bubble," Cuban was right on the money when it came to this aspect of the cryptocurrency...
Bitcoin's Blockchain Is the Tech of the Future
Cuban followed up his Bitcoin-skeptic tweetstorm by admitting that he thinks the technology behind the cryptocurrency is "very valuable and will be at the core of most transactions in the future":

The Bitcoin blockchain is where all the digital currency's transactions are verified and stored.
As Cuban pointed out, blockchain's storage potential could benefit myriad industries in the years ahead - healthcare, financial institutions, even the election sector.
And some companies and organizations are already starting to integrate the technology...
The U.S. Department of Health and Human Services, for example, sponsored a competition to see how to integrate blockchain in a way that improves privacy, scalability, and privacy for health IT last July.
And now Wal-Mart Stores Inc. (NYSE: WMT) is using blockchain to track pork in China in order to digitize the hand-offs between trading partners there. These trades would otherwise be managed in paper files and subject to delays and errors.
Savvy investors will want to keep an eye out for those companies using blockchain to stay ahead of the curve. Fortunately, we've done the research for you.
Have a look at more blockchain profit plays right here.
The Biggest IPO of the Year and How to Play It: Twenty-one legal marijuana companies have soared above 1,000% gains already. But get ready... There is a highly anticipated IPO that will happen any day now, and it is expected to be huge. Analysts are projecting a massive 254% gain right off the bat for private investors... But you must hurry. The IPO could happen at any moment. Details here...
Follow Money Morning on Twitter @moneymorning, Facebook, and LinkedIn. Follow our Bitcoin and Ethereum expert David Zeiler on Twitter @DavidGZeiler.
Related Articles: