On June 8, 2017, UK voters will head to the polls between 7:00 a.m. and 10:00 p.m. to vote for lawmakers to fill all 650 seats in the House of Commons.
The next general election was supposed to be held in 2020, but Prime Minister Theresa May of the Conservative Party called for a "UK snap election" in April.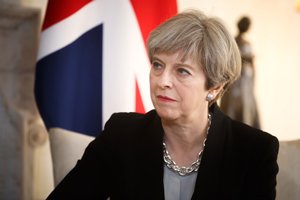 May wants Britain to be unified before Brexit negotiations are finalized in 2020.
May wants a "hard" Brexit, which would remove the country from the European Union's single market that allows the free movement of goods and services without internal borders. British Parliament Member Jeremy Corbyn of the Labour Party wants a "soft" Brexit, which would still keep some ties to the single market.
The party with the most seats will have an easier time pushing its agenda.
As of June 7, betting service SkyBet.com placed 1/14 odds the Conservative Party would win the most seats in the June 8 snap election, projecting it has the best chance of winning. In comparison, the odds of the Labour Party winning are 7/1.
But if the race is closer, it may take longer to announce a winner…
When the UK Snap Election Results Will Be Announced
Exit poll results for the British snap election will be announced at 10:00 p.m. on June 8, and British districts will report results from 11:00 p.m. on June 8 to 12:00 p.m. on June 9.
If the vote is close, it will take longer to announce a winner. If not, British voters will have a better idea of who won in the early morning on June 9.
It takes 326 seats for an overall majority in the House of Commons. So at a certain point, one party may have an overwhelming lead that can't be overcome even before all of the votes are tallied.
Don't Miss: Trump's Secret Weapon Set to Foil China's Master Plan
Newspapers may then "call" a winner before an official winner is announced.
While this election may not seem important for U.S. investors, it could drastically impact the U.S. stock market.
When Britain first voted to leave the EU on June 23, 2016, the Dow Jones Industrial Average plummeted from 17,946.63 on June 23 to 17,190.51 by June 28, 2016.
That was a 4.21% drop in less than a week.
To help our readers protect their investments from the potential volatility resulting from the vote, Money Morning Resource Specialist Peter Krauth has a strategy to minimize losses and increase the value of your portfolio.
Here's what you need to do before the UK snap elections on June 8…
Follow Money Morning on Twitter @moneymorning, Facebook, and LinkedIn.