(Kitco News) - World stock markets were mostly steady to firmer overnight. U.S. stock indexes are also pointed toward slightly higher openings when the New York day session begins.
Gold prices are moderately lower in pre-U.S.-session trading, on a downside correction after good gains on Tuesday pushed prices to a seven-week high.
Terror attacks in Iran Wednesday, including on its parliament, have not had a significant impact on the world marketplace. ISIS has claimed responsibility for the attacks.
Important and likely markets-moving events are on tap late this week. On Thursday there are general elections in the U.K., a European Central Bank meeting, and former FBI director James Comey testifies before the U.S. Congress.
That should make for an active and potentially volatile day in many markets. Next week, the Federal Reserve's FOMC meets, at which time it is expected the Fed will slightly raise U.S. interest rates.
There is also a bit of uneasiness in the marketplace about the Trump administration that continues to be embroiled in controversy, particularly regarding alleged ties to the Trump team and the Russian government involving the presidential election in 2016. The Wall Street Journal on Tuesday ran a scathing editorial on Trump's leadership style.
The Paris-based OECD think tank issued a report on Wednesday saying U.S. economic growth will be slower than the group had expected because of Trump's present troubles. The OECD expects annual U.S. GDP at 2.1% this year, which is down from its projection of 2.4% U.S. growth in March.
The key outside markets on Wednesday morning see the U.S. dollar index is higher on a corrective and short covering rebound after hitting a six-month low Tuesday. The greenback bears are still in firm near-term technical control as dollar index prices are in a three-month-old downtrend. The other "outside market" on Wednesday morning sees Nymex crude oil futures prices slightly lower. The oil market bears have the firm overall near-term technical advantage as prices are below $50.00 a barrel.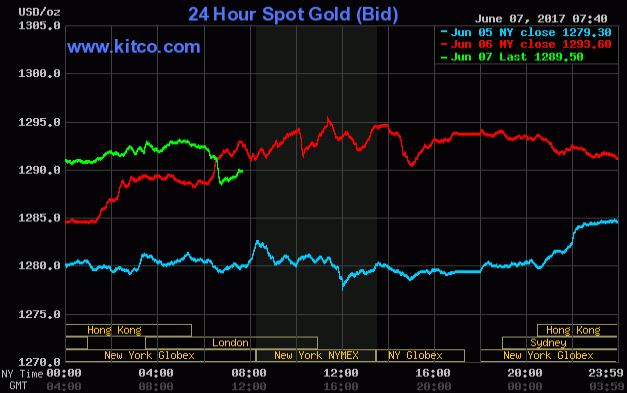 U.S. economic data due for release Wednesday includes the weekly MBA mortgage applications survey, consumer installment credit and the weekly DOE liquid energy stocks survey.
By Jim Wyckoff, contributing to Kitco News; jwyckoff@kitco.com
Follow Jim Wyckoff @jimwyckoff for breaking news.